With standards for the Big Lodge (Kitchi Wigwam).
And with the standards for the Little Lodge (Pangi Wigwam) added in parenthesis. Those for the Medicine Lodge (Mashkiki Wigwam) would be the same as for the Big Lodge, if any are desired.

Bead-badges.
The badges may be worn across the arm in the fashion of the white man; or in a band across the breast or down the breast from the shoulders after the manner of the Indian. These are the same for all lodges.
Events marked * are not optional.

Athlete.




Camp Doctor.




Frontier Scout.







Runner.





white Woodcraft.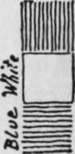 Red.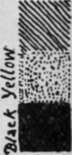 Green.
Athlete Or Strongman (Song Adis)
The Degree of Athlete is conferred on those who can make 12 out of the events for the Little Lodge and 15 out of those for the Big Lodge.
- means "not open".
EVENT

LITTLE LODGE

BIG LODGE

UNDER 10

UNDER 12

UNDER

14

UNDER l6

UNDER l8

over l8

Walk 1 mile in

14

min.

13

12

II

10

9

Run 100 yards

-

-

13

12 3/5

11 1/5

" 50 "

7 4/5

sec.

7 2/5

7

-

-

Skate 100 "

17

"

l6

15

14

13

11 2/5

Swim "

any

time

any time

any time

any time

any time

any time

Paddle 1 mile

15

min.

14

13

12

11

10

Row 1

14

13

12

10

9

8

Running broad jump

10

feet

11

12

13

14

15

" high "

3

ft. 8

3.11

4.1

4.4

4.7

4.10

Standing broad jump

6

feet

6 1/2

7

7 1/2

8

8 1/2

" high

3

"

32

3.4

3.6

3.8

3.10

Chin the bar

3

times

5

7

9

11

13

Push up from floor (no swing)

-

9 times

11

13

15

17

Rope climb (hands only)

-

16 sec.

14

12

10

8

Shot put 8 lbs.

-

-

30 ft.

35

40

Potato race 8 p's, 2 yds apart, 5 yd finish

47

sec.

45

43

41

39

37

Throwing regulation baseball

50

yds.

60

70

80

90

100

Batting baseball

45

"

50

55

70

80

95

Throwing lacrosse ball

70

"

80

90

100

115

130 ft.

Kicking football (place kick) f

20

"

25

30

35

40

50

Put up 5lb. dumb-bell

-

-

70

90

110 times