Feet
Round and close like a cat, a wee bit turned in.
Knees
Big and flat. To be back at the knee is bad.
Foreleg
Straight, with plenty of good bone well carried down to the foot and quite straight and short between the knee and the foot. Bone may be very big without being ponderous, for example, the Belvoir Weaver entered in 1906 measures:—(Girth 34 1/2 inches, Arm 8 1/2 inches, Below knee 5 3/4 inches, Height 24 inches.)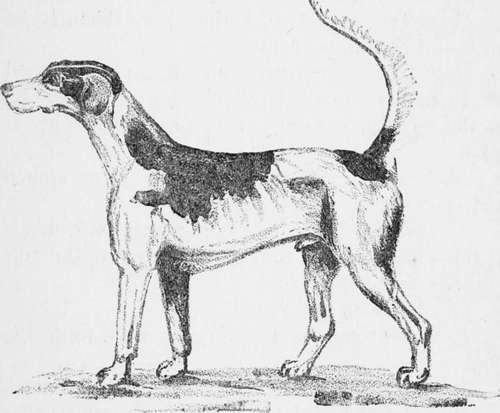 A Perfect Hound
Forearm
Strong, with plenty of good muscle.
If the elbows turn out a wee bit it does not much matter. If they turn in it matters a great deal.
Thighs
Big and muscular.
Quarters
Round and strong.
Hocks
Well let down ; big, clean and strong. There should be great length between the hip and the hock.
Stifles
Powerful and well bent.
Couplings
Short, as distinct from slackness of back and shortness of ribs.
Back
Broad, muscular and flat, not chopped off at the stern, which should be well filled on to the back. A roach back, i.e., a bent one, is fatal.
Neck
Well set on ; muscular, long, arched and symmetrical.
Shoulders
Long and sloping, well back, strong at the withers, which should be narrow at the top, muscles flat at the side.
Chest
Deep and broad.
Ribs
Strong, and springing well from the back.
Head
Not too flat ; long, strong and refined. Forehead strong and long. Jaws square ; under jaws are bad. Lips deep and loose. In bitches the head should be more elegant.
Nose
Large and nostrils wide.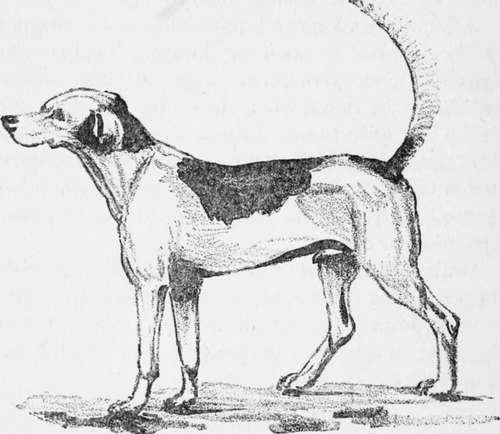 A Faulty Hound.
Eye
In the dog the eye should be bold. In bitches more refined, but showing determination.
Always ascertain personally the qualities of a hound you propose to breed from, and be sure he is good in his work and has plenty of tongue.
The Dam is of quite as much importance as the Sire, even more so, for she generally imparts all the good qualities of her blood more than the dog.
Never breed from or keep a hound because of his good looks only, and never breed from a mute hound.
Do not be in a hurry to draft a young hound because he does not enter well the first season ; many such hounds turn out excellent hounds in the end.
Some hounds become jealous, and so sometimes take to running mute.
A babbler, a laggard and a skirter, are as bad as a mute hound. Draft them at once.