575. History
The radish, which has been cultivated since earliest historic times, is indigenous to the temperate regions of the old world (De Candolle, "Origin of Cultivated Plants," p. 29). People of many countries consume the roots in large quantities.
576. Importance
The radish is particularly important in this country as a spring and early summer crop. It is'easily grown. The roots attain edible size in three to six weeks from time of sowing. As it is highly appreciated as a salad plant, immense quantities are grown by market gardeners supplying the city markets. It is also a profitable crop with some of the southern truckers, who ship to markets of the northern states.
577. Climatic Requirements
This is a cool-weather plant, but may be grown under a wide range of climatic conditions. If the supply of soil moisture is ample, high temperatures are not very damaging.
578. Soil
The soil should be cool, moist, fertile and friable. Sandy loams are preferred. In heavy soils the roots are likely to be rough or ill-shaped, with a large number of small, fibrous laterals.
579. Varieties
Wide variation exists in the character of the roots. In form they may be oblate, spherical, top-shaped, oval, oblong, conical or conical-cylindrical. In color they may be white, red, yellow, light brown, orange, red, purple or black. Some varieties are especially valuable for early spring planting, others for summer use and others for winter.
Beckert's Chartier
Beckert's Chartier is a favorite long radish, crimson, shading to white at the tip. It is a summer variety.
Cardinal Globe
Cardinal Globe is a valuable globular-shaped radish that matures very quickly.
Chinese Rose And New White Chinese
Chinese Rose And New White Chinese are the most popular winter varieties.
Earliest White
Earliest White is an early, olive-shaped variety prized in home gardens.
Early Long Scarlet Short Top
Early Long Scarlet Short Top is popular among market gardeners.
French Breakfast
French Breakfast is a well-known bright carmine radish, clear white below.
Hailstone
Hailstone is a quickly growing white radish. Long White Vienna is valued as a summer variety. Round Red Forcing is adapted to very close planting under glass or in the open, because of the small foliage. Scarlet Frame is a red, very early, turnip-shaped radish. White Delicacy is said to be an improvement on the White Strasburg.
White Icicle
White Icicle is a valuable, very early variety.
580. Planting
Radishes are planted from early spring, as soon as the ground can be worked, until six weeks before freezing weather. By the proper selection of varieties and sowing at frequent intervals a constant succession may be had throughout the season. The roots of winter varieties may be stored for consumption when they cannot be had from the garden or the field. The seeds are strong in germinaamount of thinning. The distance between plants in the row will vary from I to 5 inches depending upon the size of roots and tops. As a general rule the rows are 1 foot apart, although the small varieties may be planted much closer.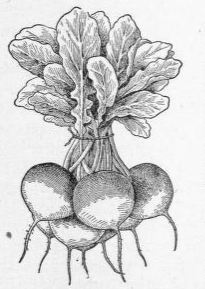 Fig. 97. radishes bunched and should be sown for market thinly to avoid a large.
581. Fertilizing
Decayed stable manures may be used in large amounts, but fresh manures should never be employed immediately before planting. A fertilizer carrying 4 per cent nitrogen, 8 per cent phosphoric acid and 10 per cent potash, applied at the rate of half a ton or more to the acre, should produce excellent results if other conditions are favorable.
582. Marketing
Radishes are bunched (Figure 97) for market, the number in a bunch varying from 3 to 10. It is important to grade them. Grading, however, is generally neglected.