Kogt Fisk (Boiled Fish)
Boiling is a favorite way of preparing and serving fish in Denmark. Usually only large fish are cooked in this way but slices of large fish, such as salmon, pike, halibut or carp are also excellent. You should have a rack with two handles so the fish can be lifted out of the water without breaking it. However, a cloth tied around the fish before it is cooked is quite satisfactory.
Wash the fish through several waters and sprinkle with salt. Let it stand a few minutes. Lay it on the rack, or tie it in the cloth, and drop it into cold water to which has been added salt and 2 tablespoons vinegar. Bring it to a quick boil then simmer slowly until done; it can be tested with a straw or toothpick for tenderness. Serve with lemon sauce (see under "Sauces") and parsley potatoes.
Fiskrouletter (Fish Patties)
A good way to use left-over boiled fish, canned salmon or salted codfish. Also a use for cold, boiled, mashed potatoes.
4 large Potatoes, mashed with Milk and Butter, cooled.
2 cups Cold Fish, chopped into small bits.
2 Eggs.
Salt and Pepper.
Mix all ingredients together and form into small round balls. Roll in dry bread crumbs or flour and fry until brown in deep fat. Serve with mustard sauce (See under "Sauces").
Spegesild Med Logsauce (Herring With Onion Sauce)
Clean and bone a salt herring. Soak over night in cold water. Cut into bite size chunks and cook in boiling water for 20 minutes. Make a white sauce to which has been added 2 boiled, chopped onions. Pour over the cooked herring. Serve with boiled potatoes garnished with chopped parsley.
Fiskefars (Fish Force Meat)
2 cups ground cooked Fish 4 tablespoons Potato Flour (or 2 tablespoons White Flour and 2 tablespoons Cornstarch).
3 tablespoons Butter 1 1/2 cups Milk 1 Egg.
Salt and Pepper.
Melt the butter and mix into the fish. Add flour and other seasonings and stir until all the fish is covered with it. Mix until it is smooth. Add the beaten egg. Stir in the milk slowly. It should be firm enough to form into patties; add a little more flour if necessary. Fry in hot fat until brown on both sides. This mixture is also the basis for the two following recipes.
Fiskebudding (Fish Pudding)
Use the above recipe for Forcemeat and place in a buttered mold set in a pan of hot water. Bake in a 325° oven for one hour. Serve with lemon sauce or mushroom sauce. (See under "Sauces.")
Fiskefars For Smorgaasbord (Forcemeat For Smorgaasbord)
Use recipe for Forcemeat and bake in a buttered mold at 325° for 1 hour. Cool. Remove from mold and slice in thick slices. Arrange around the edges of a large platter. Place 2 slices of hard boiled egg on each slice, a spoonful of mayonnaise and a dash of paprika. Fill center of platter with sliced tomatoes, garnished with parsley.
Torski Kasserolle (Codfish In A Casserole)
3 cups codfish.
1 small Onion, minced.
1 stalk Celery, minced.
1/4 cup Butter.
1/4 cup White Wine.
Pepper and Salt.
If salt codfish is used, soak it over night in cold water. Then remove all bones and pick it into small pieces. If fresh fish is used, lay it in slices in the bottom of a buttered mold. Next a layer of onion, celery and pepper; if fresh fish is being used, sprinkle it with salt. Dot the butter over the top; pour on the wine. Cover tightly and allow to steam for 45 minutes. This may be cooked over a very low heat on the top of the stove or in a 325° oven. Serve with lemon butter (See "Sauces").
Baked Fish
This is a good recipe for large bony fish as the bones are so softened in cooking that they may be eaten like canned salmon. Best type to use is Pike, Pickerel, Halibut, large Mackerel, Salmon and Rock Cod.
5 pounds Fish cut into.
2 inch slices 1 cup melted Butter.
1/2 cup Vinegar.
2 tablespoons Catsup.
Salt and Pepper.
Place fish in baking pan and pour all the other ingredients over it. Bake at lowest possible temperature (not over 225°) for 7 hours. Baste with juice from bottom of pan occasionally. This may be canned by packing the jars with hot fish, filling the jar with boiling salted water, then processing it in a pressure cooker for 10 minutes.
Fried Fish
For a large fish cut into 1 inch slices; small fish may be fried whole. Dip each piece into canned milk then into flour; back into the canned milk and then into cracker crumbs. Have shortening very hot (about 1 inch deep) in a heavy skillet. Drop the fish into this and fry until brown and crisp on one side, then turn and repeat on the other side. Turn only once.
Laxi Gele (Salmon Aspic)
Boil 4 salmon fillets in salt water to which has been added 1/2 cup vinegar and 6 whole pepper corns. Test for doneness with a straw or toothpick. Soften 2 tablespoons of gelatin in 1/4 cup cold water and dissolve in 1 cup of fish broth. Add 1 cup water, 1/4 teaspoon salt and pour over the cooked fish. Chill until firm. Serve with mayonnaise and garnish with cucumber in vinegar (see under "vegetables").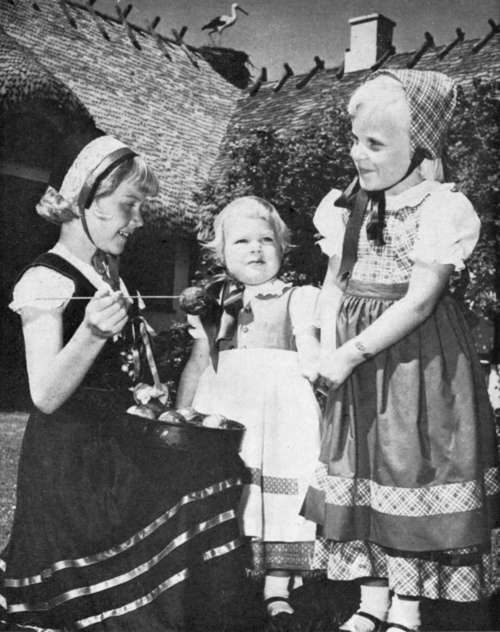 M-m-m-m-m . . . Good!