Danes have many wonderful sauces that are served over their fish and meat. For a boiled dinner or with soup meat, try this: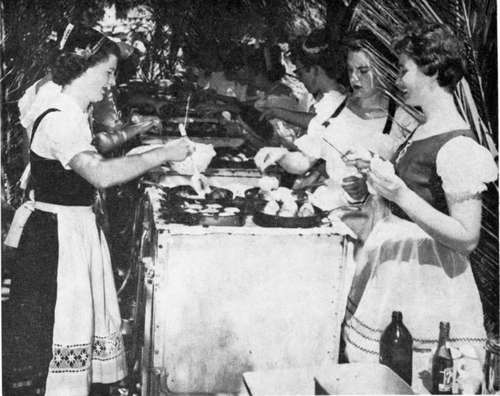 What's Cookin?
Peberrods Sauce (Horseradish Sauce)
2 tablespoons Butter 1 tablespoon Flour.
1 cup Milk.
2 tablespoons Sugar.
3 tablespoons prepared.
Horseradish Pinch of Salt.
Melt the butter in a sauce pan and stir in the flour. Gradually add the milk and cook until thickened. Stir in sugar, salt and horseradish. Serve hot.
Sur Flode Sauce (Sour Cream Sauce)
3 tablespoons Bacon or other drippings 3 tablespoons Flour Pinch of Salt 1/2 cup Water.
1 Bouillon cube or 1/2 cup canned Bouillon 1 cup Sour Cream Dash of Pepper.
Mix flour and drippings in pan over low heat and add the bouillon mixture. Increase heat and stir until it thickens. Just before serving, stir in the sour cream. This is delicious poured over cooked cabbage.
Sennep Sauce (Mustard Sauce)
3 tablespoons Butter 3 tablespoons Flour.
1 small Onion.
2 teaspoons prepared Mustard.
1 1/2 cups Soup Stock or Bouillon 2 tablespoons Currant or Plum Jelly Salt and Pepper.
Cook the onion, chopped fine, in the butter, then stir in the flour. Add the soup stock and stir until it is thickened. Mix the mustard with the jelly and stir into the sauce. This is good with fish balls.
Frugt Sauce (Fruit Sauce For Puddings)
2 cups Red Fruit Juice currant, raspberry, rhubarb, cherry, sat-suma plum, or a mixture of any of these.
2 cups Sugar.
2 tablespoons Cornstarch.
Pinch of Salt.
Mix sugar, salt and fruit juice together and bring to a boil. Thicken slightly with the cornstarch, which has been dissolved in 1/4 cup water. Serve cool.
Citron Smor (Citron Butter)
1/4 cup Butter.
1/2 teaspoon Cornstarch.
1/4 cup Cream.
Salt.
Juice of 1 Lemon.
Mix the cream and cornstarch together; add the butter and salt and bring to a boil. When thickened add the lemon juice. Serve over fish, boiled potatoes, cauliflower, cabbage or other vegetables that are improved with a sharp sauce.
Champion Sauce (Mushroom Sauce)
2 cups Soup Stock or water in which fish was boiled.
2 diced Carrots.
1 small Minced Onion.
2 Egg Yolks.
1 cup Mushrooms.
3 tablespoons chopped.
Parsley 1/2 cup Cream 1 tablespoon Flour Salt and Pepper.
Cook the carrots, onions, seasoned with salt and pepper in the stock until the carrots are tender. Strain. Mix the flour and cream together and thicken the strained stock with it. Add the mushrooms, which have been previously cooked. Pour over a boiled fish or a fish pudding and sprinkle with parsley.
Citron Sauce (Lemon Sauce)
1/4 cup Flour 1/4 cup Butter 1 cup Water 4 Egg Yolks.
1 teaspoon Sugar.
2 teaspoons Lemon Juice Salt.
Melt the butter in a sauce pan and stir in the flour. Add the water slowly and cook until thick. Beat egg yolks until pale yellow. While thickened mixture is very hot pour slowly over the beaten eggs, beating constantly. Do not cook. Add lemon juice, salt and sugar and serve.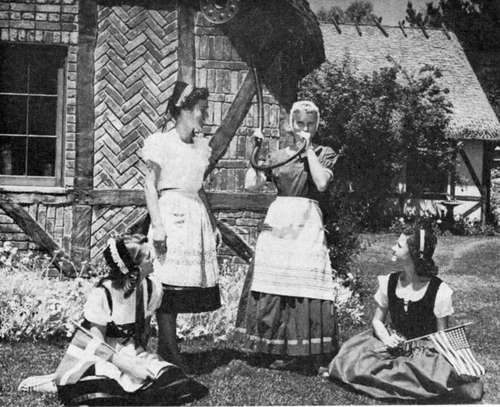 They can cook, too!