I. Moraceae
Castilloa elastica, C. Markhamiana.
Ficus elastica, F. Vogelii and other species.
II. Euphorbiaceae
Hevea brasiliensis and other species. Manihot Glaziovii, M. dichotoma, m. heptaphylla, M. piauhyensis and other species.
Sapium Jenmani and other species.
Plate I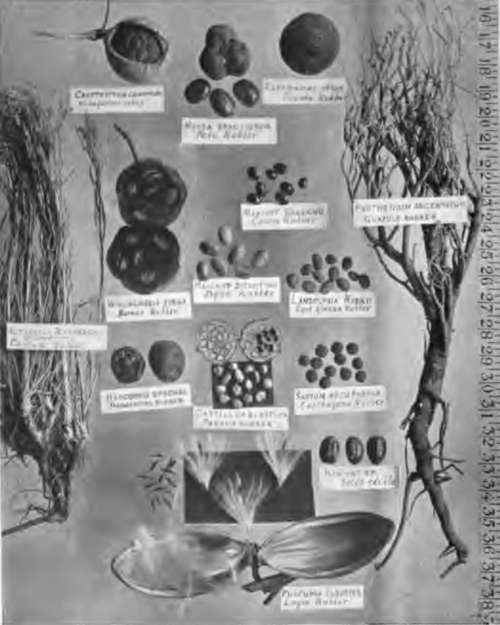 Fruits and Seeds of Rubber Plants
Photo H. F. Macmillan
III. Apocynaceae
Alstonia sp. Carpodinus sp. Clitandra sp.
Funtumia elastica, F. africana. Dyera.
Hancornia speciosa.
Landolphia Kirkii, L. Dawei, L. owariensis,
L. Heudelotii, L. Thollonii, etc. Leuconotis sp. Mascarhenasia elastica. Parameria glandulifera. Urceola esculenta. Willughbeia sp.
IV. Asclepiadaceae
Cryptostegia grandiflora. Raphionacme utilis.
V. Compositae
Parthenium argentatum.
American Species.