An Alice-in-Wonderland tree that spoils many a fine park picture in England is the monkey puzzle (Araucaria imbricatd). In its native country, Chile, this tree doubtless fits and attains age and dignity, but in cold countries it is preposterous — a mere curio.
It has a wretched mimic in the Spanish fir (Abies Pinsapo) which is the stiffest and hardest conifer that I know, alternately dismal and ridiculous. It is literally a horrid tree, in the ancient sense of the word.
The loveliest species of the genus Araucaria is A. excelsa, sl marvel of symmetry, which promises to become an elegant feature of Florida homes south of Miami.
To sum up: England grows taller conifers than we, but we possess a greater variety of evergreens, North, South, and West. No one section of America, probably, can grow as great a variety as England can. Our job is to try Japanese conifers on a small scale and plant our native conifers by the million*
* Veitch's "Manual of the Coniferse" is a standard work on evergreens, but is chiefly botanical. Elwes and Henry's "Trees of Great Britain" is the leading English work. Sargent's "Silva of North America" is the American standard and his "Manual" is a popular abridgment. We have many popular books on native trees, mostly descriptive, but Dame and Brooks's "Handbook of the Trees of New England" contains estimates of their horticultural value by W. H. Manning. A good all-round book is "The Tree Book" by Julia E. Rogers. Felt's "Insects Affecting Park and Woodland Trees" is Memoir 8 of the N. Y. State Museum. The Bradley Bibliography now being published by the Arnold Arboretum is the most complete list of books, pamphlets, and articles on trees from every point of view. There is much to learn about the best evergreens for different soils and climates and for all the different uses.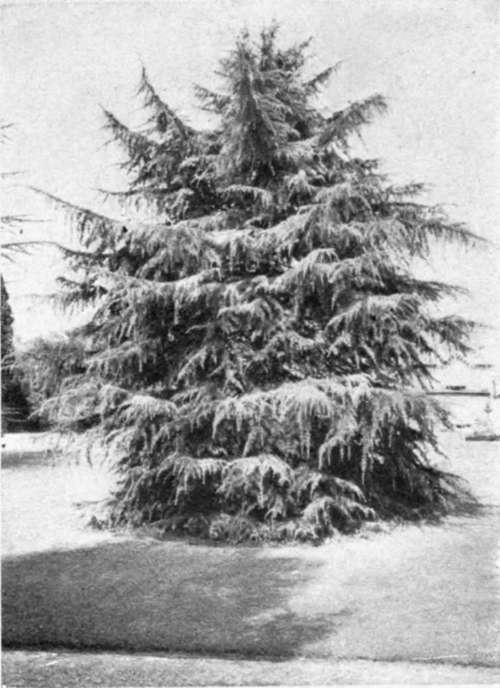 A DEODAR (Cedrus Deodara) SHOWING THE HARSH, LARCH-LIKE TEXTURE OF YOUNG CEDARS.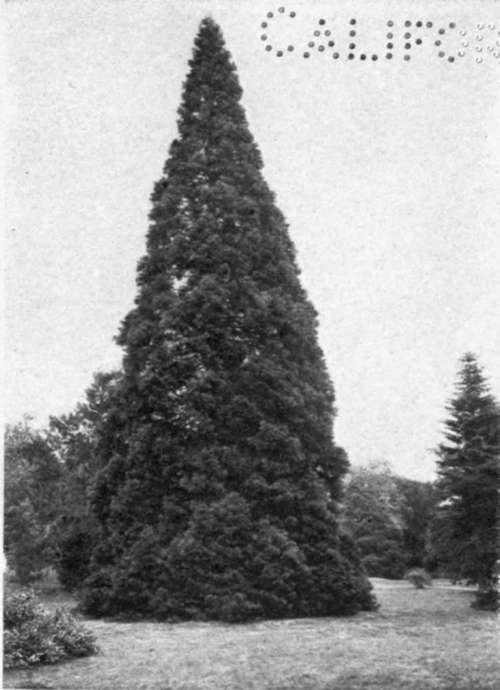 WELLINGTONIA*' IS THE ENGLISH NAME FOit THE "BIG TREE." THIS ONE WAS PLANTED BY THE DUCHESS OF WELLINGTON, APRIL 24, 4855. NOTICE THE BUNCHY FOLIAGE EFFECT. See page 152.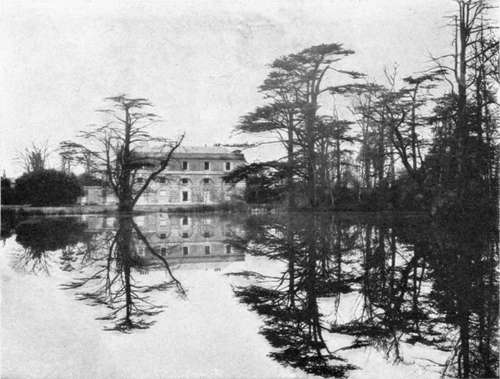 CEDARS OF LEBANON AT WHITTON TOWER, NORTHUMBERLAND. PROFESSOR SARGENT SECURED IN 1902 A FORM OF THIS CEDAR WHICH IS HARDY IN NEW ENGLAND. See page 148.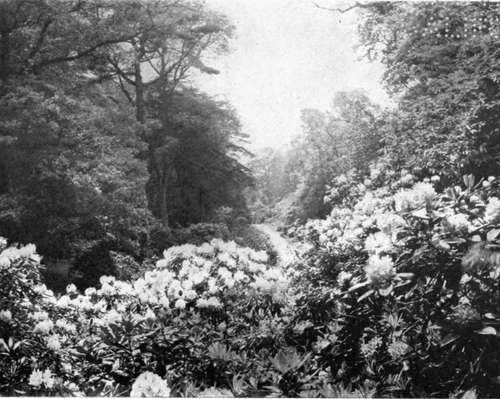 The most gorgeous flowering effect in the world is that of rhododendrons." they have huge trusses. many colours, and have magnificent foliage the year round. a mass effect at kew. See page 166.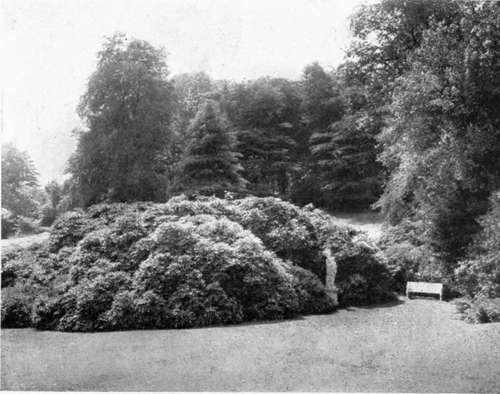 The "classical effect" of broad-leaved evergreens, showing that the secret of "garden magic" does not reside in mere leaf forms (such as laurel, myrtle, olive) but in luxuriance. riverhill, sevenoaks, kent. See pages 759, 160.