While luxuriant foliage seems to me the first thing to provide for, the "man from Missouri" will want to know what are the showiest flowers he can have in a bog garden. Here is a short list. Are these flowers large enough?
Siberian iris, 4 inches.
Tall yellow iris, 5 inches.
Japanese iris, Q to 12 inches.
*Lilium Canadense, 4 inches.
*Lilium superbum, 4 to $ inches.
Hibiscus Crimson Eye, 5 to 6 inches.
*Hibiscus Moscheutos, 5 to 6 inches.
Hibiscus Mallow Marvels, 6 to 10 inches.
And if our Missouri friend still doubts whether a bog garden is any good let him consider the following plants which have smaller individual flowers but are notoriously splendid in mass:
*Jsclepias incarnata.
*Caltha palustris, (see plate 100).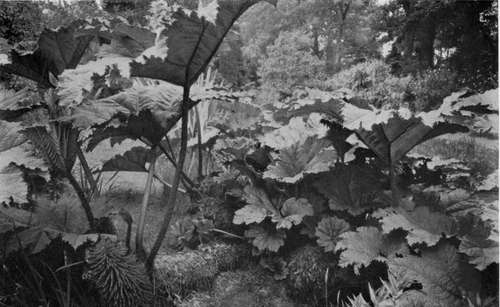 THEr LARGEST LEAVES OF ANY PLANT IN CULTIVATION ARE THOSE OF THE GUNNERA. THE LEAVES OFTEN MEASURE SIX FEET ACROSS, BUT ONLY NEAR THE WATER SIDE, AND ONE HEARS OF LEAVES OCCASIONALLY ELEVEN FEET IN DIAMETER. NOT HARDY NORTH. See pages 201, 32$.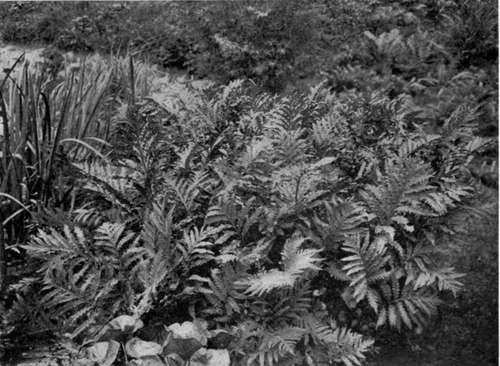 THE SENSITIVE FERN IS ANOTHER AMERICAN PLANT WHICH IS OFTEN SEEN IN ENGLISH BOG GARDENS, WHERE IT DOES WELL. (Onoclea sensibilis.) CAMBRIDGE BOTANICAL GARDEN.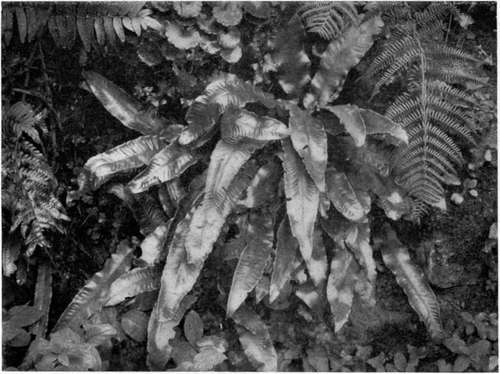 THE SHINING LEATHERY, UNDIVIDED LEAVES OF THE HART'S TONGUE, A FERN OF THE GREATEST INTEREST. See page 301.
*Ckelone Lyoni. *Lobelia cardinalis. *Monarda didyma. *Myosotis palustris.
But, lest this seem too theoretical let me give the main features of the best bog garden I saw in England. Here are the largest colonies which Sir Henry Yorke has established, and I have arranged the plants in the order of their bloom. His main pictures are made with:
Azaleas, May.
Rhododendrons, June.
Japan iris, June.
Golden-banded iris, June.
*Canadian lily, July.
Japanese primrose, July.
Torch lily, July to September.
*Purple loosestrife, August.
Pampas grass, September, October.
Bamboos (foliage).