For example, you have probably seen and admired a border plant known as the giant knotwood (Polygonum Sieboldii or cuspidatum). In the hardy border it may grow three feet high, but at the water side it grows six feet high and makes a huge, round bush that is a perfect cloud of white bloom in July. And this water magic is even more remarkable in the case of another knot-weed, known as sacaline (Polygonum Sachalinense), since the latter is altogether too rough and coarse for a formal garden. In the bog garden this objection vanishes and the plant takes on new interest. It is like the piece of stage scenery which seems outrageously crude when one stands right by it, but sufficiently refined when one is at the proper distance. In other words, the first aesthetic demand that a bog garden makes is for a certain number of plants on a heroic scale to illustrate the magical effect of water on vegetation. Of these heroic plants there are about three types.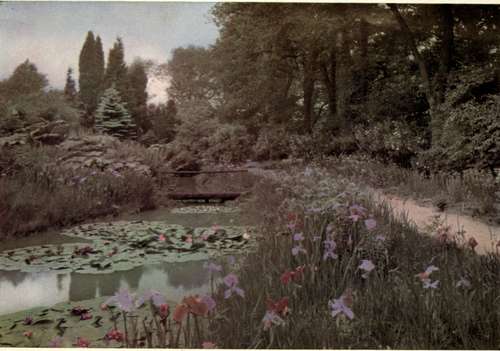 WHY NOT DRAIN YOUR WET LAND, MAKE A%STREAM OR POND LIKE THIS AND PLANT WATER-LILIES AND JAPAN IRIS? ROYAL HORTICULTURAL SOCIETY GARDEN. IMAGINE THESE FLOWERS TO BE SIX TO NINE INCHES ACROSS.
* AH the plants marked • in this chapter are American wild flowers.
First, the very tall plants. All the following attain six feet, and some twelve:
Moonpensy daisy (Chrysanthemum uliginosum). Joe-Pye weed * (Eupatorium purpureum). Ferula Tingitana.
Sneezeweed *(Helenium autumnale). Slender sunflower * (Helianthus orgy alls). Cow parsnip (Heracleum villosum).
Swamp rose mallow * Hibiscus Moscheutos — Hibiscus Crimson Eye — Hibiscus Mallow Marvels.
Reed*(Phragmites communis) —Giant knotweed (Polygonum Sieboldii).
Sachaline (Polygonum Sachalinense).
This will show, in a general way, how much the English are indebted to America for their best bog garden effects. And it should encourage us, for there can be no question about the hardiness of the plants. Moreover, nearly all of them are very easy to grow, and practically all can be had from American nurserymen.
Second come the plants with wonderfully big leaves. Among these the greatest favourite in England is the Gunnera (see plate 97), which has the largest leaves of any plant in cultivation— often six feet across, sometimes ten. Unfortunately, it is not hardy enough for our Northern states. The nearest substitute for it is Rheum Collinianum. Other water-loving plants with big leaves are:
Caltha polypetala. * Saxifraga peltata. (See plate 21.) Senecio Clivorum. (See plate 102.) Senecio Wilsonianus.
Third are those plants which are a never-ending marvel because of the uncountable multitude of their stems and flowers. For example:
Lysimachia clethroides.
Lysimachia Ephemerum.
*Lysimachia punctata.
*Lythrum Salicaria.