We can never hope for any tree effects among broad-leaved evergreens in the North. In England the holm oak, or ilex of Italian gardens (Quercus Ilex), will sometimes attain fifty feet. On the other hand, England can never rival Magnolia grandiflora of the South or the Christmas berry of California. We shall never equal English hedge effects. It is possible to have miles of holly hedging in the North, but practically it is only a rich man's plant.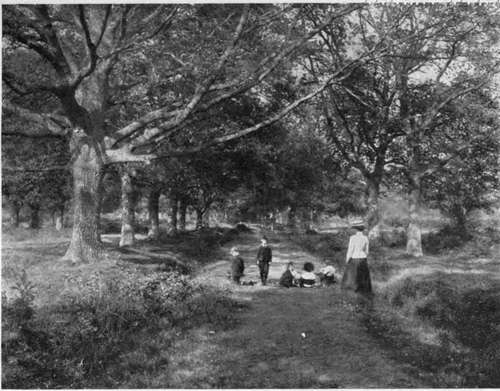 The english landscape possesses more luxuriance and mellowness than ours and this is largely due to the tree growth, since trees grow taller and live longer than other plants. See page 181.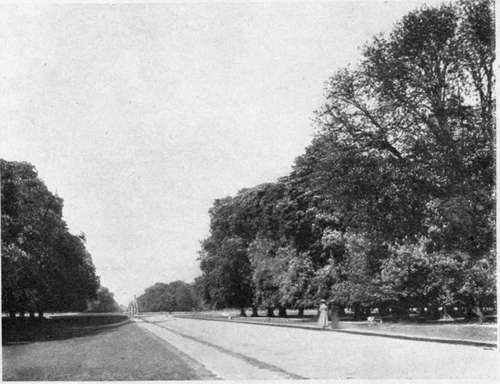 An english park, showing why the trees are all flat-bottomed -the deer trim them. an avenue of horse chestnuts about a mile long at bushey park. See page 186.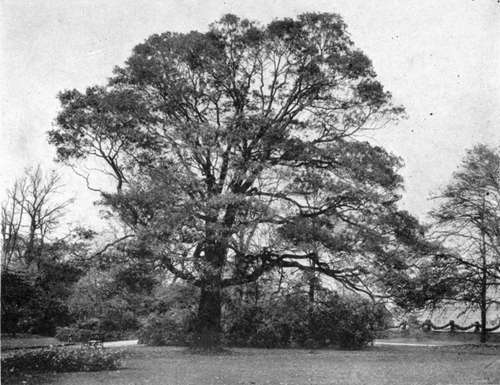 The english love the oak best of all trees because it lives longest. some .day oaks will be first in our hearts also. we have many kinds, england only two. See page 191.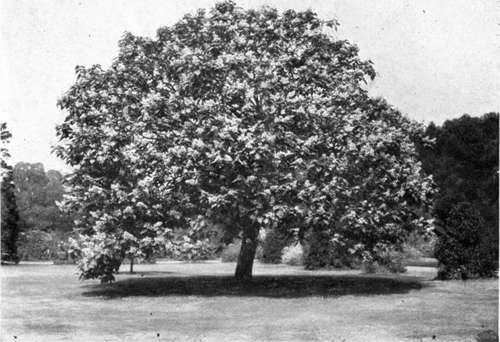 An american caialpa in england, showing the breadth and nobility we could get by planting our own trees and giving them plenty of room to grow. See page 187.
We can never have the variegated effects of gold or silver-edged hollies which are said to be highly cheerful in the English winter.
We shall never have the game-cover effects of England -thousands of acres of English laurel and Gaultheria Shallon. We are a long way yet from being a nation of pheasant raisers.
But why repine? Think of the effects we can have! Are they not more numerous and beautiful than you ever suspected ?*
•Holly, Yew and Box" by W. Dallimore, pictures and describes many varieties. The best American information on this subject is contained in back numbers of two magazines. These can be had separately, or one may consult the bound volumes. (G. M. means Garden Magazine: C. L. means Country Life in America. The numbers refer to volume and page.)
"The Broad-leaved Evergreen," (G. M. 2:18). The best brief all-round article.
"The Hardy Broad-leaved Evergreens" (C. L. 13:605), describes the best sixteen kinds, and gives a key to the forty-nine that are hardy.
"Moving Century-old Box" (C. L. 10:537), gives practical details.
"Moving Old Box to New Gardens" (C. L. 7:56), gives principles of hardiness and cultivation.
"The Best Hardy Plants of the Heath Family" (G. M. 3:334), describes materials of the "peat garden".
"All the Hollies Worth Growing" (G. M. 4:234).
"The Gorgeous Family of Rhododendrons" (C. L. 9:429), gives a list of all the hardy varieties. "Rhododendrons, Wild and Cultivated" (C. L. 11:467), inspiring and practical.
"A Perfect Combination — Rhododendrons and Lilies" (C. L. 12:531), describes all the peat-demanding lilies. "Planting for Winter Comfort and Beauty" (C. L. 9:155).
"The Show Garden of the South" (C. L. 13:299), describes lovely effects with Indian azaleas and camellias.
"How to Buy Trees and Shrubs Economically" (C. L. 12 =48). Tells how beginners are deceived when buying evergreens.