I saw only one thing to beat Lilium superbum and Canadense in England. The summit of an Englishman's ambition is to grow the giant lily of the Himalayas which has been well named Lilium giganteum.
The picture at plate 99 shows the white trumpets, like those of an Easter lily, but larger and more numerous than on any lily you ever saw or heard of. Imagine a lily ten feet high, bearing twenty flowers, each nearly a foot long! It is very rarely that the dimensions here named are attained in England, but a lily only six feet high, with only twelve trumpets which are only six inches long, is enough to take one's breath away.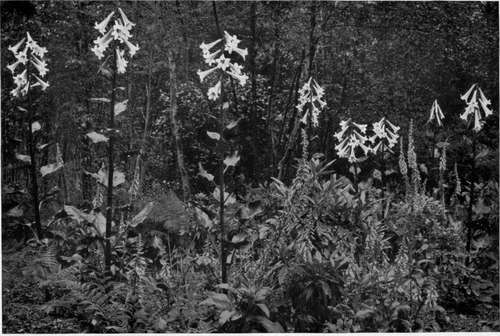 THE GIANT LILY OF THE HIMALAYAS (Lilium giganteum), WITH WHITE TRUMPETS SIX INCHES OR MORE LONG AND EIGHT TO TWENTY ON A STALK. See page 294*.
Another feature which adds greatly to the interest of the giant lily is its broad heart-shaped leaves. I venture to say that you never saw a lily without long, narrow leaves and parallel veins. Indeed, parallel venation is one of the characters that separate the monocotyledons from the dicotyledons, the two biggest branches in the vegetable kingdom, so far as flowering plants are concerned. Yet this giant lily has broad leaves with netted veins — a great rarity indeed.
It is almost a "moral certainty" that any Englishman who owns a bit of moist, peaty land will try to grow Lilium giganteum. I was told that at Lord Walsingham's it "grows like a weed," attaining magnificent size and even sowing its own seed. But nobody expects to have such luck as this, and nobody pretends to tell other people just how to grow it. All agree that it must have bog garden conditions, i. e., peat, shade for the lower part of the stems, and a never-failing supply of moving moisture, but beyond that all is experimental. It is essentially a "sporting proposition," and nobody who can afford twenty dollars a dozen for the bulbsseems to begrudge the price for there is a chance to make superb pictures with this giant lily in a sheltered nook, surrounded by huge rhododendrons and, perchance, a musical little stream running past.