No. 14.-MR. HARRY HOUDINI
1. What is your favorite theater?
All the world is a theater to me.
2. Which is your favorite hobby?
Browsing in old bookstalls, seeking old dramatic items for my library.
3. Which is your favorite pastime?
Out door athletics and long distance swims.
4. Which is your favorite song?
"Auld Lang Syne."
5. Which is your favorite sweetmeat?
Candied fruits.
6. What is your idea of comfort?
Seated in a large arm chair in library and hearing Mrs. Houdini call up: "Young man your lunch is ready."
Mrs. Harry Houdini.
7. Which is your unlucky day?
Haven't any; an unfortunate incident at any time simply builds a foundation for something better.
8. What is your favorite motto?
"And this, too-shall pass away.9'
9. When have you felt at your worst?
Once when sailing round the world, at a longitude 01 80', we had two Tuesdays in one week and no Wednesday, which meant losing a Christmas, and I was seasick at the time. It will be an awful thing to eclipse my painful anguish.
10. What is your pet aversion?
The bald-headed man who says: "Ah, I remember you when I was a boy."
11. What is your greatest ambition?
To live a life and die being worthy of the mother who bore me.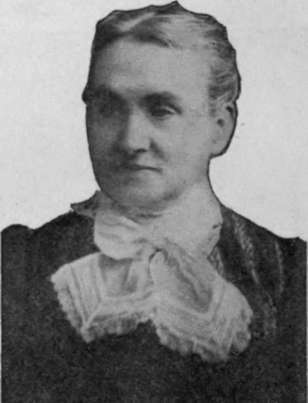 My Mother.
12. What is your favorite holiday resort?
Hollywood, California.
13. Who is your favorite author?
My dad.
14. What is your idea of misery?
Arriving in a town at midnight on a drizzly wet, foggy night, and finding all the hotels full up.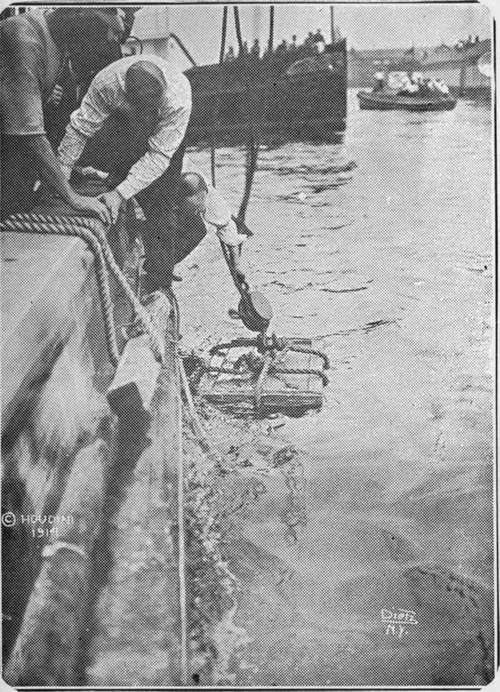 Snap shot photograph of packing case containing six hundred pounds of iron weights and Houdini, as it was dropped into New York Bay. Houdini escaped from the box at the bottom of the bay in two minutes and fifty-five seconds.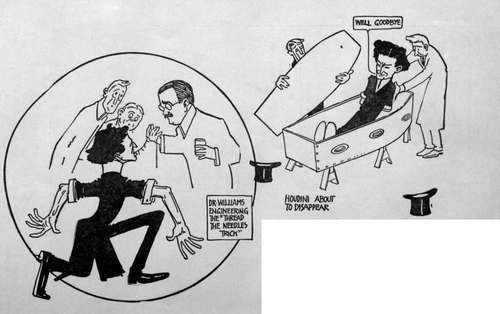 The National Casket Company challenged Houdini to escape from one of their heavy-hickory coffins after they had fastened the cover down with six inch screws. Houdini accepted the test, which took place before members of the Boston Athletic Association, Boston, Mass. He escaped, the coffin was intact, showing no means of egress.