The arabesques above the paintings are adorned with sculptured portraits, by Capellano and Causici, of Columbus, Raleigh, Cabot and La Salle. These with their wreath-work adornment, executed iai827, cost $9,500.
In the contracted panels over the doors leading from the rotunda toward the four points of the compass are decorative designs in demi-relief, which are disgraceful disfigurements of the room and valuable only for the good-natured smile which they inevitably provoke from the most melancholy spectator. The government paid $14,000 for these unique decorations. Above the northern exit, Gevelot has presumably represented William Penn making his famous treaty with the Indians. The remarkable group by Causici above the bronze door portrays the landing of the Pilgrims; while the one over the south door, executed by the same artist, shows a hand-to-hand conflict between Daniel Boone and two Indians. The similar decorative panel above the western entrance is by Capellano, and represents Pocahontas saving the life of Captain John Smith.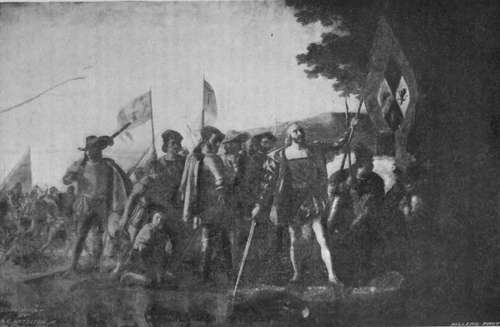 THE LANDING OF COLUMBUS.
The effect of these grotesque figures, crowded out of proportion by the contracted panels, was amusingly satirized by Mr. Wise on the floor of the House at the time of his tirade upon Greenough's " naked statue of George Washington." Mr. Wise said that " there was scarce one of the specimens of sculpture or painting in the rotundo which had not been dubbed with some disgraceful epithet, or been made the subject of some pungent criticism. The Indians when looking at the representations of their fellow aborigines, had observed, with much caustic shrewdness, that the first, over the door of the entrance, represented the old world coming to the new, and the new welcoming the old, and giving it corn; but in the next was the representation of a treaty, in which the white man cheated the Indian ! Then came Smith saved by Pocahontas from death; and in the very next panel was Boone murdering two Indians ! 1 We give you corn, you cheat us of our lands; we save your life, you take ours.' A pretty faithful history of our dealing with the native tribes ! Then as to the painting of the Declaration of Independence, everybody remembered John Randolph's nickname of 1 the shin-piece.' And who could forget the bitter criticism of Burges, on the representation of Boone, 1 That it very truly represented our dealing with the Indians, for we had not left them even a space to die upon.' (The whole ground in that panel being occupied by the body of the Indian already dispatched, so that when the other fell he must lie on the body of his countryman.) "