Franklin, Jefferson, Adams, Livingston and Sherman, the committee appointed to draft the Declaration of Independence, reported it to the Continental Congress as Jefferson had written it.
It was adopted, after a few amendments, on July 4, 1776, by the vote of every Colony, though not engrossed and signed until the 2d of August. The picture recalls the words of John Adams : " I am well aware of the toil, and blood, and treasure that it will cost us to maintain this Declaration, and support and defend these States. Yet, through all this gloom, I can see the rays of ravishing light and glory." John Hancock, the President, sits at the table, and before him stand the committee. The artist found it more effective to represent the whole committee advancing to make their report than to have the chairman only, as is the custom, arise for the purpose.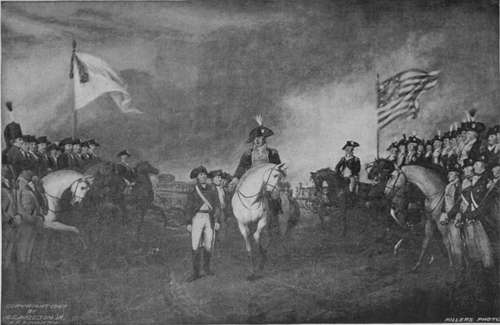 "The room," writes Trumbull, " is copied from that in which Congress held their sessions at the time, such as it was before the spirit of innovation laid unhallowed hands upon it, and violated its venerable walls by modern improvement, as it is called." The costumes are those of the period. By Adams' and Jefferson's advice the signatures on the original instrument, which is preserved in the library of the Department of State, were used as a guide to those who were present.
The painting was planned at Jefferson's home in Paris, where the artist had the assistance of the Minister's information and advice; and there, in the autumn of 1787, he " painted the portrait of Mr. Jefferson in the original small Declaration of Independence." Hancock and Samuel Adams were painted in Boston, and Edward Rutledge in Charleston, S. C. Trumbull writes from London : " I resumed my labors, however, and went on with my studies of other subjects of the history of the Revolution, arranged carefully the composition for the Declaration of Independence, and prepared it for receiving the portraits, as I might meet with the distinguished men, who were present at that illustrious scene. In the course of the summer of 1787, Mr. Adams took leave of the court of St. James, and preparatory to the voyage to America, had the powder combed out of his hair.' Its color and natural curl were beautiful, and I took that opportunity to paint his portrait in the small Declaration of Independence".