Important members of the Gadidm or Cod family are the pollack and the coalfish, but these I have dealt with in a previous chapter. Of a kin, and next in importance, at any rate to the sportsman, is the whiting (Gadus merlangus). To taste a whiting at its best one must be a sea angler, for a considerable portion of the whiting which come to market are caught in trawls, and are towed along for hours in a half-dead condition mixed up with stones, crabs, starfish, etc. Then they are packed in boxes, and later on, as likely as not, kept for some days on ice, particularly if the wholesale price is low. When they come to table they are insipid and either watery or dry. But take your rod and come with me to some big sea loch on the north-west coast of Scotland. Moor the boat over a little bit of sandy marl which Macdonald knows of, and presently we shall begin to pull up, not the miserable little half-pounders of our South coast, but big fellows running from one to two and sometimes three pounds. An hour of this sport will suffice to fill a good-sized basket, and then back we go to the little hotel at the head of the sea loch, give our catch into the hands of the fair-haired Christina of the blue eyes, descendant of the Norse raiders, and presently there will be a noise of fizzling heard through the land, and the delicate, moist, delicious fish will be set before us on the plain but well-stocked board.

Deep Sea Inshore North Sea Hooks And Snoods (Actual Size) Used On Long Lines.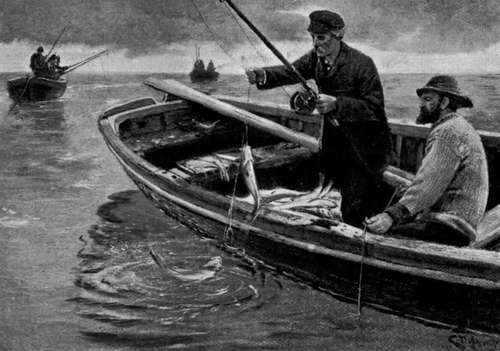 'AN HOUR OF THIS SPORT WILL SUFFICE TO FILL A GOOD-SIZED BASKET.
The largest whiting I have ever taken were from those same sea lochs, but it has been in the Downs between Deal and the Goodwins that I have found them most plentiful. There a hundred or more in the course of a few hours is no uncommon catch.
In summer-time whiting show a preference for the shallows, but, generally speaking, fish of any size are not caught in much less than ten fathoms of water. In winter they retire to the deeps. When the water is very clear, it is best to fish at night, and at all times many more will be caught at sunrise, or thereabouts, than at any other time of the day.
There is no better tackle than the paternoster, and for whiting—perhaps more for him than other sea fish—it is a decided advantage to use fine tackle. I should never think of using anything stronger than medium single gut for the hook links, and find that a hook half the size of those commonly seen on the hand lines of the fishermen is the best size, unless the run of fish is exceptionally large.
Any sizes between the two shown in the illustration may be used, according to the circumstances. When the fish are biting very shyly indeed, I use the very small hook ; not covering it, but hooking on to it a tiny strip of mackerel or herring skin, or a ragworm. Among the best baits are lugs, pilchards or their guts, herrings, squid, mackerel, and ragworms.
Whiting spawn about March, after which they are out of condition for a month or two, but have greatly improved by July, and are at their best in the autumn. When the cold weather comes they retire into rather deep water. According to Pennant, whiting up to as much as eight pounds in weight have been taken near the Doggerbank.
Many a cockney goes to Brighton, pays his half-crown an hour for the privilege of dangling a hand line over the side of a cockleshell of a boat, and catches a few fish, which he is gravely assured by the longshoreman in attendance are whiting. In all probability these will be pout or rock whiting, for the said longshoreman is, as a rule, too lazy to take his customers to the whiting grounds which lie further out.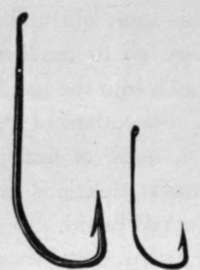 Whiting Hooks.