When I first wrote my little treatise,' Angling in Salt Water,' I did not think sea anglers would ever venture to use 2-lb. leads when fishing with a rod, nor until recently have I done.
When fishing in the fairway where vessels are frequently passing and it is necessary for a small boat to get out of the road in a hurry, it occasionally happens that there is not sufficient time to haul up the anchor or stone. To prevent both anchor and cable being lost, it is a capital plan in such situations to have something buoyant, such as a large tin can, fixed to the end of the cable so that it may be cast overboard, and recovered after the danger has passed. Of course this cannot be done if chain cable is used.
I propose in this chapter to deal with the three methods of so myself; but from some of the many letters received from readers of that handbook, I have learnt that the rod can be used successfully with leads even exceeding the weight mentioned, and that hand lines are in consequence much less used than formerly.
In the introductory chapter (p. 26) I explained where the advantages of a rod came in, and I will only repeat now that it enables one to use a fine strong line which on account of its fineness could not with any degree of comfort be held in the hand. By using this fine line the weight of the lead can be much reduced ; but a fine line necessitates a reel, and a reel a rod ; and the rod, by reason of its pliancy, gives us the opportunity of using fine gut tackle which we could never venture to place at the end of a hand line. Sometimes it is desirable to keep the bait quietly on the bottom, and this cannot be done in bobbly weather except with the rod, the point of which is easily raised or depressed according to the movements of the boat. The longer the rod, the more easily can the movement of the boat be humoured and the lead kept steady. This steadying of the lead is one reason why many more fish are often caught on lines worked with the rod than on hand lines. Unfortunately, where a very heavy lead is absolutely necessary a long rod cannot be used with any degree of comfort.
Under certain conditions sea fish will unquestionably take a suitable bait on any tackle, however coarse, as, for instance, in the gloom of very deep water and at night, or when the sea is thick after storms. But in the long run the amateur fisherman beats the professional out of the field. Mr. C. N. Hemy writes to me that when fishing on the Cornish coast with modern appliances he has caught six times as many fish as the local men.
The best rod for boat work I have yet seen is one which has been gradually worked out by members of the Gresham Angling Society with the assistance of Mr. Hemens, of the New North Road. With it leads up to 2 lbs. can be easily worked. I have even used a 3 1/2-lb. lead with its assistance without much difficulty. It is made in two pieces, and is by no means so stiff as tackle-makers generally think it necessary to make sea rods. It measures only about seven feet, and I may say here that eleven feet is the outside length of a rod for boat work when ground tackle is used. Owing to the great strain which it has to bear, it is fitted at the end and next the reel with a roller apparatus over which the line passes. There are two good arrangements for the end of the rod : one is simply a little block fixed on with wire ; the other a brass arrangement invented and made by Mr. Jones, of Scarborough, and sufficiently explained by the illustrations. The Jones apparatus is rather heavy and more expensive than the block, but answers admirably, and its advantages are particularly apparent when the angler has to use his rod from pier or shore and wishes to cast out some distance. In place of the ring next the reel, there is a metal sheave and two little metal supports into which it is carefully countersunk. Here the friction is considerable, and a roller of some kind is very necessary. The sheave and its supports are shown in the illustration.

SHORT SEA ROD FOR BOAT WORK.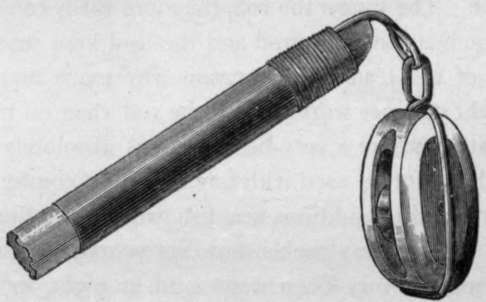 BLOCK FOR END OF BOAT ROD (ACTUAL SIZE).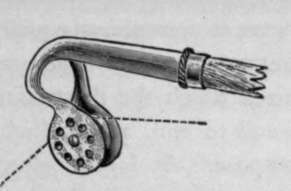 JONES'S ROLLER RING.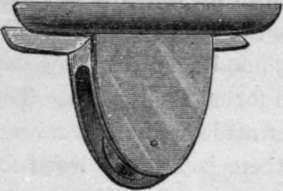 SHEAVE IN LIEU OF LOWEST RING (ACTUAL SIZE).
There are many kinds of rod rings made for use between the two end rings ; but, patents notwithstanding, none, so far as I have discovered, is in actual use better for this particular rod than the snake ring, which is a double misnomer, for it is not a ring nor does it take the shape of a snake. There is simply a curved piece of wire beginning slightly on one side of the centre of the rod and ending on the other ; but the illustration already given—repeated here for the reader's convenience—will explain it better than any written description.

Snake Ring.
It is now a well-known item of fishing tackle, and is cheap, simple, and effective. It should stand out half an inch from the rod.
For sea-fishing tackle (the hooks excepted) beware of iron or steel in any shape or form, whether bronzed, plated, or otherwise treated to prevent rust. For rod rings and any metal fittings for which it is suitable I am very fond of phosphor bronze, but hard German silver, or brass, answers almost equally well, and doubtless some day aluminium will come into general use for such purposes. The rod from which the illustration was made was of greenheart from end to end, and I doubt if there is a better wood for the purpose. As I said before, it is not very stiff, nor when we have an exceedingly short rod of this kind is stiffness necessary, even with very heavy leads.