The roadsides of England are often very dull to the pedestrian because the high hedges of hawthorn often cut off the view. But to those who drive or ride they are a dream of beauty, because the hedge banks are full of little flowers. The great lesson we should learn from this is that we can and ought to make every foot of our daily walk or drive from home to office or station as full of charm as any equal distance in England. We can do it by adopting the methods of wild gardening, which are quick, cheap, wholesale ways of getting large, permanent results. But it would be wickedly expensive and stupidly literal for us to throw up miles of earthen walls in a country where fences are cheaper than hedges. Those earthen walls in England, on which the hedges often stand, were made by cheap labour centuries before the invention of wire fences, and it would be poor economy to banish them now. On the other hand, we should be aping England to copy this simply because we could afford it. "Aping" any other country consists in copying her bad features, or in copying good things with materials that were once the cheapest but are now very costly.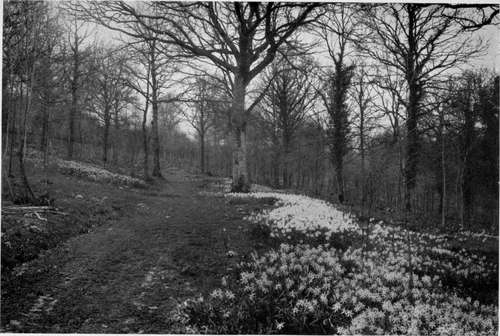 NARCISSUS TIME IN WARREN'S WOOD, GRAVETYE MANOR, THE HOME OF MR. WILLIAM ROBINSON. A NATURAL WOOD, WITH NO LANDSCAPF GARDENING SAVE THE INTRODUCTION OF THE NARCISSI. See page 56.
We need a wholly different type of beauty and we have it already in the shrub-lined roadsides of New England. The only important class of plants beside water-lilies in which we have a climatic superiority to England is in shrubbery. The one thing I missed most there was the succession of simple, homely bushes, such as sumach, elder, bayberry, shad-bush, sweet fern, hazel, winter-berry, and above all, our matchless variety of bushy dogwoods and viburnums. These can be collected by the wagon load or gotten by the car load from collectors of native plants at much lower rates than nursery-grown material.
If this particular plan does not suit your purse or locality, perhaps you can find a method that will be satisfactory by consulting the article on "Roadside Gardening," in the Garden Magazine for July, 1908.
In conclusion, I believe that the rich have four great opportunities for wild gardening — the woods, meadows, roadsides, and rocks. But in every American home there ought to be one spot sacred to American wild flowers. No good effect can be produced by mixing them with common garden flowers. They demand a place apart. It may be a separate border. It may be a nook in the shrubbery, where wildlings find congenial shade without being robbed by rank bushes. It may be only a dark passageway lined with ferns. But we all need this daily reminder of the precious things we can get only from wild nature. And when every American home has its wild garden America will be as home-like as England. One reason why the English seem like one big family is that every English home has its English plants. Have we fewer wild flowers? Are they inferior in beauty? No, and perhaps the quickest way to achieve an American style of gardening is for every home to cultivate, as a token of our brotherhood, some of the wild flowers that every American knows and loves.*
• The classical work on this subject is "The Wild Garden" by W. Robinson, first published in 1881. This is invaluable for inspiration and method. We have no practical American work yet, but the chapter on wild gardening in "The American Flower Garden" is valuable. The most complete analysis of American wild flowers worth cultivating is in Country Life in America for July, 1006, pages 326, 327, and 350 to 356.