We have a very provincial idea of wild gardening in America. Most people suppose that it means the cultivation of American wild flowers. If you will examine William Robinson's delightful book on wild gardening you will see that the main idea is to grow the hardy plants of other countries so that they will look like wild flowers. He invented this idea for the special benefit of plants that are beautiful when in bloom, but otherwise unfit for borders or showy gardens.
For example, we do not take our perennial asters seriously, but the English do. I know one English nurseryman who offers one hundred and thirty-seven kinds of American asters. We give little thought to improving our native wild flowers, but the English cultivate forty-five varieties of the New York aster alone (Aster Novi-Belgii). Some robust kinds multiply too fast for a border, but the finer sorts are often grown in famous show gardens. What American would ever take the trouble to stake asters ? If we do we are likely to make them tight and bunchy. The English will sometimes use branches carefully cut in such a way as to be entirely invisible and yet hold out these great sprays of cloudy bloom in more than native airiness and elegance. One lady had two borders set apart for " Michaelmas daisies," as the English call them — one for asters of the finest colours and another for the strong purples and other colours that ordinarily clash. The latter she harmonized by using plenty of white asters.
The English do not despise plants with coarse or weedy foliage, provided they have the pictorial quality. With us mulleins are a by-word and a jest. But the English cultivate fully twenty species of them. The great golden candelabra of the Grecian mullein (V. Olympicum), borne on plants six to ten feet high, make a stirring spectacle. Many mulleins have noble rosettes of huge silvery leaves. And breeders have improved the old purple mullein (V. phceniceum) until it now has a fairly good pink in addition to violet, lilac, rose, white, and copper colour.
How little imagination we exercise toward plants whose chief fault is that they are easy to grow! For example, many Americans have discarded Polygonum Sachalinense because it multiplies too fast. An English gardener told me that, if you will pull the suckers, hardly any will be formed after the third year. And if you confine the plant to three stems and feed heavily it will make an extra tall and thick bush, and arch so gracefully that you may use it as a specimen plant on the lawn. Could we not make some extraordinary pictures by applying this principle to the perennial sunflowers and the plume poppies or bocconias? Other tall plants of rough or coarse habit that make very striking pictures in English wild gardens are the giant silver thistles (Onopordon and the like), the compass plants or silphiums, and the metallic blue globe thistles and sea hollies.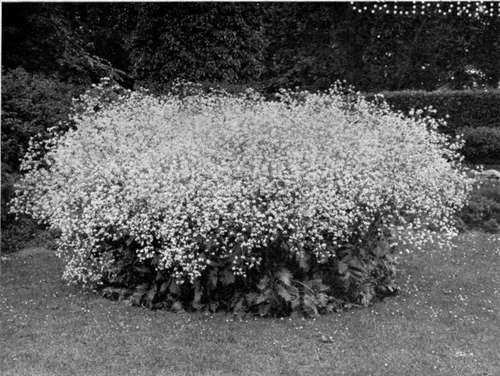 EXAMPLE OF CLOUDY AND BILLOWY EFFECTS WHICH THE ENGLISH GET WITH WHITE-FLOWERED PERENNIALS, ESPECIALLY WHEN THE WIND STIRS. CRAMBRE ORIENTALIS, A RELATIVE OF THE SEAKALE WHICH GROWS FIVE TO SEVEN FEET HIGH. See page 234.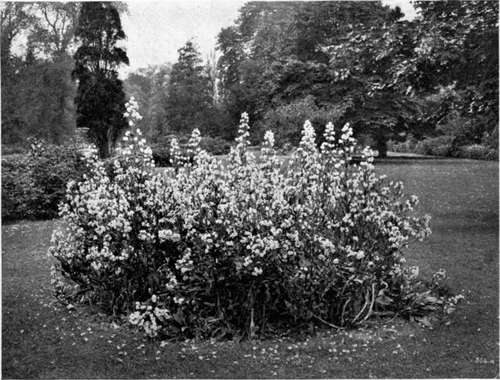 EXAMPLE OF LARGE-BLOOMING PERENNIALS USED FOR BEDDING. THE DROPMORE ANCHUSA, ONE OF THE BEST BLUE FLOWERS IN CULTIVATION. See pages 233, 327.
I often saw great clumps of moon daisy (Chrysanthemum uliginosum) reflected in the water. This plant never attains magnificent proportions in a border unless it is given an extra supply of water. A big colony by the waterside holding up thousands of great white daisies at a height of six feet is a vision of beauty.
The greatest of all waterside effects in England is the titanic foliage of Gunnera, the leaves attaining a maximum breadth of eleven feet. This is not hardy with us. The biggest leaf we can have is that of Rheum Collinianum.
Of all the tall perennials I saw by the waterside in England, the most refined, it seemed to me, was Polygonum Sieboldii or cuspidatum.