In conclusion, it seems to me that there are only two positions of the first importance where formal beds are really needed, viz., near the house and in the garden. For the first position the noblest plants are the broad-leaved evergreens, especially American holly, mountain laurel, and rhododendrons, because these are attractive the year round.
In the garden, however, we want more colour, and for that we have hitherto relied chiefly upon tender plants. The great lesson that England has to teach us is that we can now rely chiefly upon hardy plants which are more harmonious, dignified, and permanent, cost less to maintain, remain attractive two months longer, and save us the ugliness and expense of annual digging.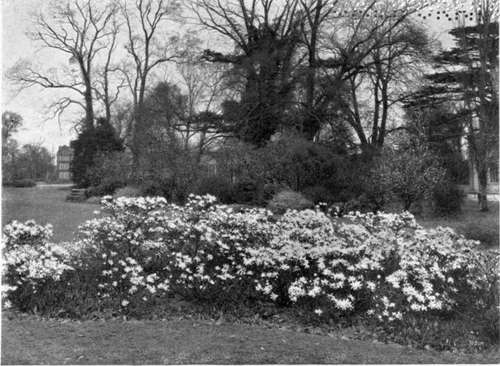 A BED OF MAGNOLIA ST EL LATA SHOWING THE WHITE FLOWERS IN MARCH. TWO MONTHS BEFORF TENDER BEDDING PLANTS ARE SET OUT. EDGED WITH GRAPE HYACINTHS. See pages 313, 316.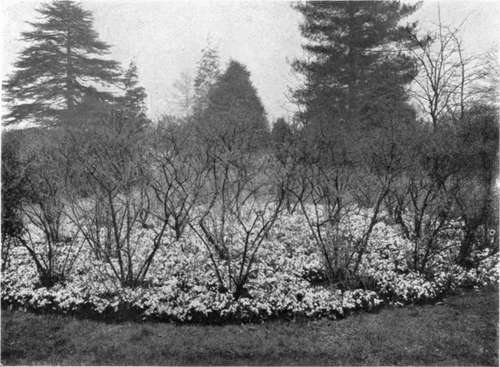 A FORSYTHIA BED CARPETED WITH GLORY OF THE SNOW WHICH BLOOMS IN MARCH. FORSYTHIAS HAVE GOLDEN BELLS IN MARCH. F. VIRIDISSIMA HAS GREEN BRANCHES. SUCH A BED HAS BEAUTY THE YEAR ROUND, WHILE BEDDING PLANTS ARE ATTRACTIVE ONLY FIVE MONTHS. See pages 313, 316.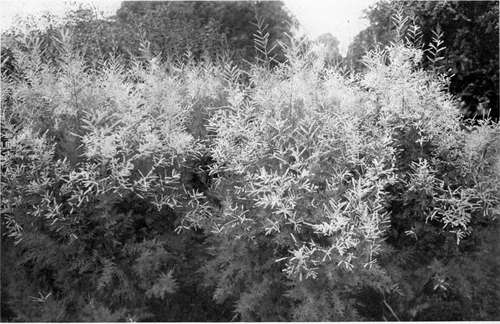 TAMARISK (NOT TAMARACK), SHOWING THE EXQUISITE HARMONY BETWEEN FEATHERY FOLIAGE AND PLUMY FLOWERS, WHICH ARE A TENDER. PINK. TALL TAMARISK IS WEAK AND THIN; THIS IS KEPT LOW AND DENSE. KEW. See page 215.