Shall bedding plants be dominant? (See plate 10.) Not in a private place. Leave that style of gardening to public squares in cities. The shearing of coleus and other plants with gaudily coloured foliage is the lowest type of gardening because there is no blossoming — nothing to symbolize the growth and efflorescence of character. A few beds of geraniums, heliotrope, or other tender flowers may be justifiable, if there is no better way to be sure of having some flowers every day, but to let tropical foreigners dominate a garden is to sacrifice sentiment to show.
Shall evergreens be dominant? Yes, if you want a garden that will last through the centuries and symbolize immortality. No, if the nurseryman tempts you to make a collection of blue and golden conifers. There is no abiding dignity in abnormal colours and fantastic forms like those of the retinisporas. There is a wonderful dignity in a garden dominated by box, rhododendron, mountain laurel, yuccas, trailing myrtle, and American holly. It will be a solemn and even monotonous garden at times, but it will also have its times of gorgeousness. Posterity will be inspired by it, for it will be fragrant of immortality.
Shall comfort be dominant? Yes, if we really love to live outdoors. But let us not have a summer house if we take tea there but once a year and never go there to read or rest. A pergola is not always a good thing. Isolated, it looks pretentious. Let it go from somewhere to somewhere, e. g., from the house to a resting-place with a good roof. Or let it go around three sides of the garden, as at Mr. Breese's place at Southampton, L. I. But if what we really need is a children's playground, and we can afford only one garden, let us give up the idea of a formal garden and make a really good playground with all the paraphernalia that children need.
Shall flowers be dominant? (See plate 11.) Yes, if they are chiefly hardy and perennial. No, if they are chiefly annuals and bedding plants, for the latter speak of ceaseless vigilance and expense where the only suggestion should be gayety or repose. I used to think perfection of detail desirable. Now I know that it makes many American gardens restless. After seeing the careless grace with which Penshurst and dozens of other English gardens bear their honours, I believe that perfection of detail is undesirable. For it inevitably suggests straining after effect. True perfection in flower gardening is characterized by a gay and buoyant spirit. The formal garden dominated by flowers is the type that England has perfected. It is the cheeriest and most home-like of all. Another name for it is Colonial. A perfect modern example of it is Mr. Larz Anderson's garden at Brookline, Mass. If we ever develop an American formal garden, I believe it will be along these lines.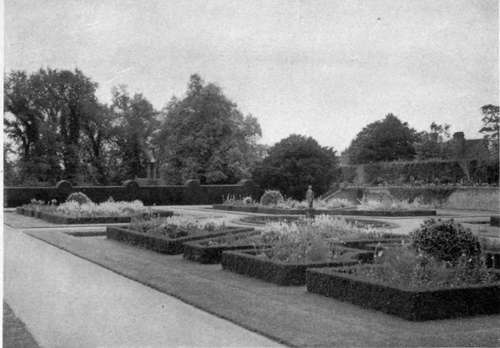 SHALL AX HISTORICAL IDEA BE DOMINANT? YES, IF ONE HAS THE PRIVILEGE OF PRESERVING A GARDEN LIKE THIS, BUT HOW MANY HAVE? PENSHURST. See page X 8.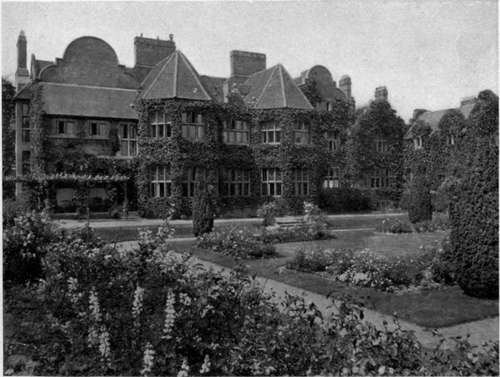 SHALL VEGETATION BE DOMINANT? YES, BUT THERE ARE MANY TYPES AND ONLY ONE SHOULD PREVAIL. HERE GREENERY IS THE IDEA. See page 18.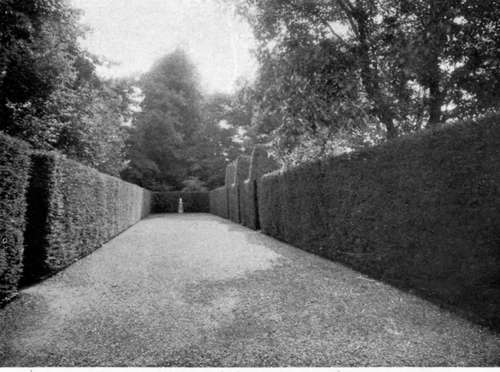 SHALL TRIMMED TREES BE DOMINANT? TOPIARY WORK IS GROTESQUE; EVEN SIMPLE FORMS BECOME MONOTONOUS. IT IS A MEAN WAY TO SHOW MASTERY OVER NATURE. AN OLD TIME WINTER WALK. WOULD NOT A COLLECTION OF TREES AND SHRUBS WITH BRIGHTLY COLOURED TWIGS OR BERRIES BE MORE INVITING AND CHEERFUL? See page iq.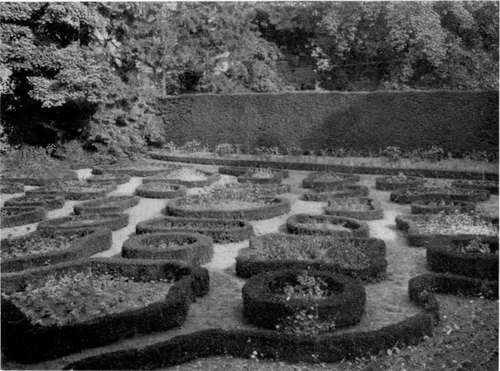 SHALL BEDDING PLANTS BE DOMINANT IN A FORMAL GARDEN? THEY REPRESENT THE LOWEST TYPE OF GARDENING. See page iq.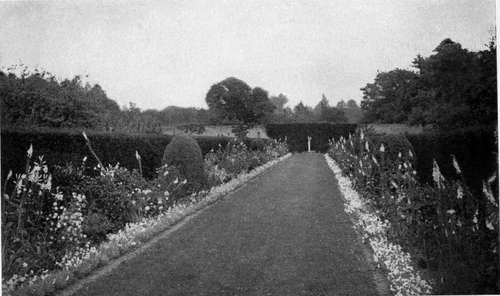 SHALL FLOWERS BE DOMINANT? YES, IF THEY ARE CHIEFLY HARDY AND PERENNIAL. NO, IF THEY ARE ALL ANNUALS OR BEDDING PLANTS (PENSHURST) See page 2q.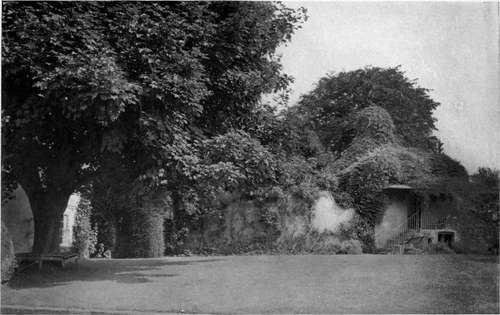 THE STUDIO WHERE ALFRED PARSONS PAINTS MANY OF HIS BRILLIANT GARDEN PICTURES. IN THE GARDEN OF FRANCIS DAVID MILLET, THE WELL-KNOWN AMERICAN ARTIST WHO LIVES AT BROADWAY, WORCESTERSHIRE. THE VINE IS OUR OWN VIRGINIA CREEPER. THE FIRST ESSENTIAL TO THE HAPPIEST OUTDOOR LIFE — PRIVACY. See page 92.
I have seen only one other large garden that seems to me to have made important contributions toward an American style of formal garden. That is Blairsden, at Peapack, N. J., the home of Mr. and Mrs. C. Ledyard Blair. It has the real Italian "garden magic," i. e., the charm that is not dependent upon flowers. And it is not a copy. The real spirit has been transported and actually adapted to American conditions. The main features are a pool and staircase which are illustrated in colour in Country Life in America for October, 1910.
To sum up: It is only by going through some such process as this, consciously or unconsciously, that we can put the best of our personality into a formal garden We are sure to put in our worst if we override the designer and the plantsman. For, if we ride over them, we violate the laws of art. These laws are not mere abstractions; they are the crystallized experience of thousands who have lived and done this very thing before us.*
* It is doubtful whether a successful book on "How to Make a Formal Garden " can ever be written, because the principles of design are hard to teach and harder to apply. To the professional designer, the most useful work, possibly, is "The Art of Garden Design in Italy," by H. Inigo Triggs. There is plenty of inspiration, but little practical help in the sumptuous books on Italian gardening by Wharton, Latham, and Elgood. "The Formal Garden in England," by Blomfield, contains many good architectural details. Some American formal gardens are pictured in works of Guy Lowell and L. V. Le Moyne. Loring Underwood has worked out a new type of American back yard in "The Garden and Its Accessories." Alice Morse Earle has pictured in "Old Time Gardens" some of the best Colonial gardens and plants. The most comprehensive classification of "old-fashioned flowers" is in Country Life in America, vol. II., pages 511 to siS (March, 1907), but groups III and IV under "Annuals" should be under "Perennials".