Danish Cookies and Danish Pastry is probably the most familiar of all cooking that has come out of Denmark. Most of the cookies in the following recipes are improved with age. You can safely bake your Christmas cookies right after Thanksgiving and know that they will be at their best during the holidays. They should be stored in air-tight cans or jars.
For an extra crisp cookie, add 1 teaspoon of carbonated ammonia (a powder which you can probably buy at your local drug store; it is a grocery store product in Denmark).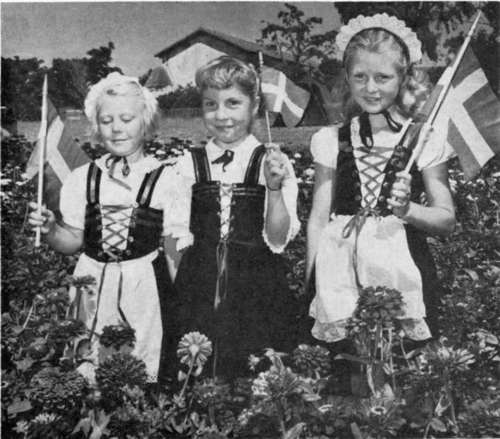 Three Danish Cookies.
Mor's Sur Flode Kager (Mother's Sour Cream Cookies)
2 cups Sugar.
1 cup Butter.
2 Eggs, beaten.
1 cup Sour Cream.
1 teaspoon Soda.
2 teaspoons vanilla.
Mix ingredients in the order given and then add enough flour to make a soft dough—just stiff enough to roll. Cut with a cookie cutter and sprinkle the top of each cookie with sugar before baking. Makes 7 dozen cookies. Undiluted canned milk may be substituted for the sour cream, using only 1/2 cup.
Brunkager (Brown Cookies)
1 cup Butter.
1 cup Brown Sugar.
1 cup Molasses.
1 teaspoon Cardamom.
4 1/2 cups Flour.
1/4 teaspoon Cloves.
1 teaspoon Salt.
1/2 teaspoon Allspice.
1 teaspoon carbonated.
Ammonia 11/2 teaspoon Orange.
Rind, grated.
Sift flour, salt and spices together. Bring butter, sugar and molasses to a boil. Remove from the heat and stir in the other ingredients. Mix thoroughly and set aside to cool. As soon as it can be handled, shape into long narrow rolls and store in the refrigerator for several days—this is better the longer it stands, up to three or four weeks. Slice very thinly and bake at 375°; they burn easily. Store in tightly covered tins.
Kraemmerhuse (Cones)
1 cup Butter 1 cup Sugar 1 cup Flour.
1/3 cup Cornstarch or.
Potato Flour 6 Egg Whites.
Cream butter and sugar together, add the flour. Fold in the egg whites which have been beaten until they stand in stiff peaks. This dough may be baked either of two ways: Spread it thinly on a flat pan, bake until brown at 375°; cut into squares immediately and while it is still warm roll each square into a cone shape before it becomes crisp. Or: drop by spoonsful on a cookie sheet, allowing room for it to spread real thin, bake until brown at 375° and roll each into a cone shape while still warm. Serve filled with whipped cream or soft ice cream. These must be eaten fresh as they do not store well.
Krumkager (Crumb Cookies)
4 Eggs 1 cup Sugar 1/2 cup Butter 1/2 teaspoon Salt.
1/4 cup Cream.
1 cup Flour.
1 cup Potato Flour.
Beat all ingredients together in order given above and drop by teaspoonsful onto a heated Krum-Kage iron. Do not have the iron too hot. Bake on top of the stove, first on one side, then on the other. Remove from iron and roll into cone shape. Cool and serve with whipped cream or custard. These should be eaten while fresh as they do not store well.