Roast Duck
Prepare duck, leaving it whole. Stuff with equal parts of peeled apple and seeded prunes. Rub salt into all sides of the duck. Cook at 225° for 4 hours. Serve with small potatoes that have been browned in sugar and butter (see recipe under vegetables) and red cabbage.
Biksemad (Hash)
2 cup left-over meat, ground 2 large Onions, ground.
3 cups raw Potatoes, ground Salt, Pepper, 1/2 Bay Leaf.
Mix all together. Melt 3 tablespoons shortening or drippings in a heavy skillet and add the hash mixture. Cover and cook slowly for 30-40 minutes, stirring occasionally. Serve with a poached egg on each portion.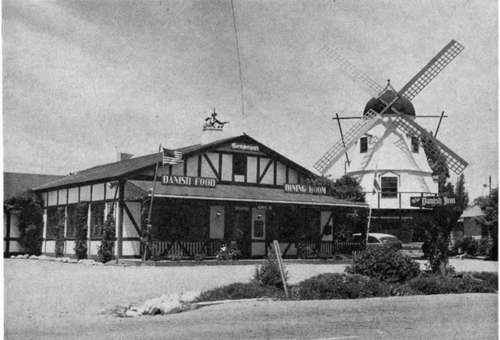 This is one of the many Smorgaasbord Specialties served by the Danish Inn, Solvang, California.
Frikadeller (Danish Meat Balls)
1/2 pound Beef 1/2 pound Pork 2 cups Milk 2 Eggs.
1 chopped Onion.
1 cup Flour.
Salt and Pepper to taste.
Grind meat 3 or 4 times through grinder. Add eggs, onion, pepper and flour. Then milk, a little at a time. Mix thoroughly. Let stand for 3 hours. Before frying, put in salt. Brown in lard. Drop from large tablespoon into frying pan turning so they get brown all over.
Flaeskesteg (Roast Pork)
4 or 5 pounds fresh Ham or shoulder of Pork Salt and Pepper.
Whole Cloves Onion Powder.
Leave rind on the roast but slit it at 1 inch spaces. In these slits stick the whole peppers and about 5 whole cloves. Sprinkle well with onion powder and salt, rubbing it in on all sides of the meat. Place in cold oven and set heat at 225°. Roast for at least 5 hours. Serve with small potatoes, heated in butter and sugar (see recipe under vegetables) and red cabbage.
Mock Chicken
3 Veal Shanks 2 Pork Shanks.
4 hard boiled Eggs 2 cups Broth.
4 slices very dry bread, ground.
1 Onion 1 teaspoon Salt 1/4 teaspoon Cloves 1/2 teaspoon Pepper.
Cook the shanks, onions and seasoning together until the meat will slip off the bones; use just enough water to furnish 2 cups of broth when it is finished. Grind meats together. Add chopped eggs and bread crumbs. Pour into oblong pan and chill. Makes excellent sandwiches or cold luncheon meat.
Hakkebof Med Log (Chopped Beef With Onions)
2 pounds beef.
2 large Onions.
Have the butcher put the meat through the grinder once only. Season with salt and pepper and shape into large patties. Brown in hot fat in skillet. Remove to a warm place. Slice onions into the same pan, stirring often to keep them from becoming too brown. When onions are tender add about 2 tablespoons of flour, stirring it well into the fat. Add enough water, a little at a time, to make a gravy. Pour this onion-gravy mixture over the meat and serve. Serve with boiled potatoes, garnished with parsley, and red cabbage (recipe under vegetables).