If the schools and colleges are not ready to give vocational and industrial instruction, is not this an opportunity for the Association? Can we not just here fit into the great scheme of instructional organization and make it possible for young men to have more of these schools for which there is such a great need?
Proper education is becoming a question of vital interest to whole communities and cities. Massachusetts has recently appointed a commission to study the industrial situation of its young men, looking toward their better training. Industrial concerns are studying the problem. The General Electric Company at Lynn, Mass., conducts a school for the young men in its employ, in which 400 students spend one hour per day in study on company time. The company does this because it believes that in time these young men will be sufficiently trained and developed to assume positions of responsibility as foremen, superintendents or managers.
Employers are demanding and will demand better preparation and competency on the part of their employees and young men now see the necessity of improving themselves in their various vocations. But how can they improve themselves without an opportunity to do so?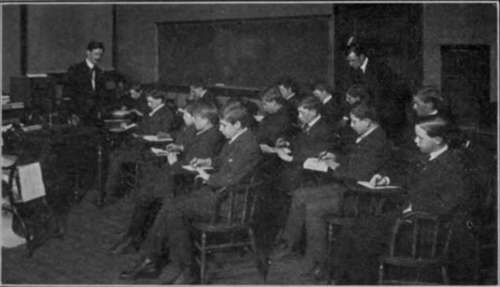 OFFICE BOYS' CLASS, WEST SIDE, NEW YORK.