The prince of hunters, dashing, bold and free, The master hound, of sportive pedigree. About the size of Pointer, more or less, Tho" stouter built and differing some in dress ; Less fine in coat, in limb more stubborn grown, A Pointer's tail a Foxhound would disown. His graceful ear and eye of daring mood, Distinctive preface to unsullied blood. To English Staghound near akin may be, Yet lighter made, a fleeter hound than he ; Seldom or ever of one color bred, Black and tan ; red,white ; black, white and red. The glories of hunting ye ne'er would deny, Did ye once see a pack of such dogs in full cry ; Mark Jolly boy, Chanticleer leading the chase; See Barmaid and Faraway quicken their pace ; Note Dewdrop and Forrester hard on the track ; With old Ringwood, heading the rest of the pack.
Hark ! hark to their voices, so mellow and clear, As the brush of poor Renard, they eagerly near ; On, on dash the huntsmen in scarlet and white, With their high mettled steeds, in ecstatic delight ;
Hear! hear the glad echos, that merrily fall O'er the soul-stirring feast, at the banoucting don't let the puppies wet themselves or lie in a damp or dirty bed. Look at them often and see that they are kept free from fleas, lice, dandruff, etc.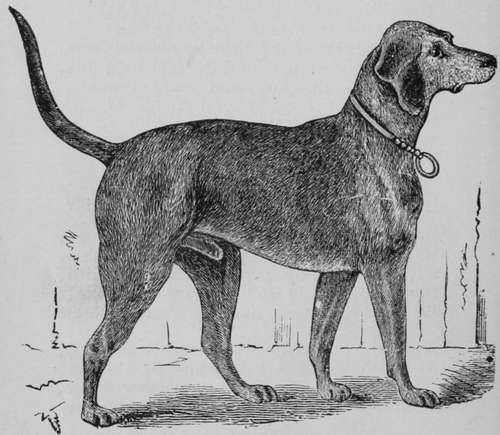 Fox Hound.