There are a good number of these beasts in Albania. I often heard them howling at night while staying on the borders of the forest, and on one occasion I saw one run in front of us as we were riding back from our Pelican expedition. The two mounted guards were in front, and I was about third, as we rode in single file, so I was too far away to shoot. The leading guard unslung his rifle, but the beast vanished into some bushes and was no more seen.
We afterwards found another fallen hollow tree, much nearer the house, in fact, it was on one of the outlying fields worked by my hosts, and sufficiently far away to be out of the reach of dogs. The prostrate trunk was a mere shell, and after we had roofed in the back, which was open, with branches and straw, and cut a hole for the lens, there was plenty of room for me to crawl in, and sit comfortably, and even to lie down when I wanted a change. Under the hole we rigged up a rough shelf for the camera, which did away with any necessity for a tripod. In this comfortable hiding-place I spent six or seven days, with a succession of carcases put down about twenty yards away. First of all I bought a sick cow, and had it brought in a bullock-cart and killed on the spot. This was cleared away to the bones the next day before I could get to the spot, but no doubt served to draw attention to the place, and act as ground-bait; after that I had two calves and another donkey.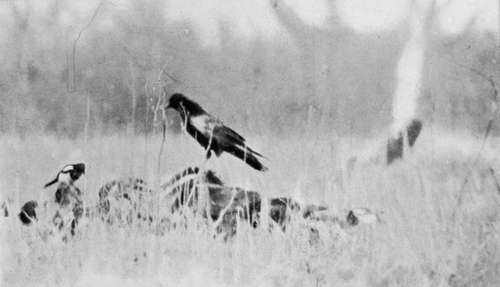 Raven And Magpie On A Carcase
Early one morning soon after I had taken up my quarters and arranged everything comfortably, I could hear my guests arriving at the banquet. At first I could see nothing ; but the scratching of claws over my head, the croaks of Vultures, and the swish-swish of heavy wings all around, told me that they were beginning to assemble. I had only provided one round hole just large enough to take the lens, so that to see what was happening I had to look through the camera, which was rather a drawback. Very quickly a host of Griffon Vultures came into view, until there were about thirty of these huge birds, and one Black Vulture. The carcase was soon covered with a seething mass of hissing, grunting birds, tearing off great lumps of flesh, and gulping down entrails until in little more than an hour there was nothing left but the bones, when they flapped heavily away, one by one. I had been very busy all the time exposing plate after plate ; I did altogether eighteen, but with no great hopes of success. Most unfortunately the morning was very dull, and dark, heavy clouds obscured the light; and presently it began to rain. I was afraid they would all be hopelessly under-exposed, and sure enough such was the case.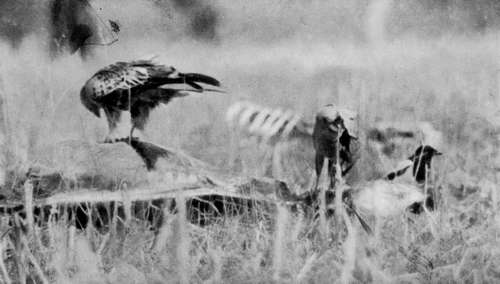 Kites On Carcase (Milvus Regalis)
The night before, almost at dusk, I had seen the carcase move suddenly, evidently dragged by some powerful animal. I thought it must be a dog, and turned the camera a trifle, and saw a big Griffon tugging at the farther end. It was astonishing to see with what ease the bird could pull the carcase, that of a large calf. It was too dark to photograph, though I exposed two plates, and then put a bullet through it, as I wanted a skin. It was a fine female, with a spread of wing of 251 cm.
(The Pelican (Pelecanus crispus) we shot was a male, and measured in length 188 cm., and from wing-tip to wing-tip 288 cm., while a Sea Eagle (Halidetus albicilld), measured 210 cm. across the wings.)
It is often said that the first bird to arrive at a carcase is the Raven. Here the first arrival was invariably a Magpie. First of all the cry of a Magpie would be heard in the neighbouring bushes, and then with wavering flight Mag would flit across and alight on the carcase, soon to be followed by others until quite a number would be collected together. Then the Hooded Crows would begin to arrive. Presently the deep guttural croak of a Raven from the summit of some tree near at hand would tell me that one of these birds had made its appearance, and after it had satisfied itself that all was safe it would fly down and advance with long hops to the feast. Sometimes I had from six to a dozen of these birds in front of me at a time, and could often hear them on the tree-trunk within a few inches of my head. At times they made a curious bubbling kind of note, which might almost be called a song, accompanied with much puffing of the throat and long throat-feathers.
One day at the end of March I had another interesting experience in this same tree. After photographing several Magpies, Hoodies, and Ravens, two Kites (Milvus regalis) appeared together, and remained some little time, giving me several chances. Then an Egyptian Vulture came into view of the focusing screen, and there were quickly nine of these handsome birds quarrelling and fighting over the calf. A single Griffon also came, but departed before I could get a plate in. Then suddenly appeared on the carcase a Sea Eagle, an immature bird.
Sea Eagle On Carcase (Haliaetus Albicilla)
All the Neophrons and Ravens retired to a respectful distance while his majesty dined. It was a splendid sight to see this noble-looking bird draw himself up and stare around him in disdain if any of the Vultures presumed to approach him too closely. Though he condescended to dine off carrion it was done in a most dignified manner, with none of the gulping and gobbling so characteristic of the Vultures.
The further use of this useful hiding-place was brought to an end by ploughing being commenced by my hosts in the field, and it was useless to expect Vultures, let alone any more Eagles, to come to it. The dogs also, which had followed the men, had by now found it out, and quickly finished it.