Where dace are plentiful and run to herring size -a pound dace is a rare fish-they give excellent sport to the young fly fisher, so most of the angling books tell us. My experience is that dace are often more difficult to catch with the fly than trout, as they more quickly reject an artificial fly than any other fish; you may get a dozen rises one after another and miss every fish. Often you will hook a fish when pulling the line off the water, as he snaps at it and is unable to eject it as there is a pull on the line. I have found the back-to-back little double hooks on which Messrs. Foster of Ashbourne dress many of their flies to be excellent. Fishing with one of their small Palmers dressed on a long shank, fine wire, double hook (merely a furnace hackle with a turn or two of gold tinsel on the body), I have often taken from thirty to a hundred dace in three hours, fishing in a mill-pool. The fact is, the little double hook is much more difficult to blow out of the mouth. Upstream dry-fly fishing for dace is very pretty work, and nothing is better for this than one of these double-hook flies with the points of the hooks standing rather out or away from the shank.
I have also found Mr. E. M. Tod's little double-hook midges made by Mr. Forrest of Kelso first-rate. As regards float-fishing for dace the same methods as employed in roach fishing, and the same baits answer admirably - the finer the tackle the better the sport. Small dace and chub are very interesting fish in an aquarium, as they rise so freely at a house-fly dropped on the water. Dace spawn in March and April, on the Thames and other rivers where they abound; the shallows are then black with them, and should be watched, as people pretending to be anglers are not above snatching them with bare hooks. Dace, like chub and grayling, are fond of trout eggs, and should be kept down in trout streams; they also destroy the fly, and on the Kentish Stour and the Test I have seen the dace and roach taking all the mayflies in some parts of the stream, greatly to the annoyance of both trout and anglers. Too many eels are also bad in a trout stream, as at night they destroy great numbers of fry and young trout.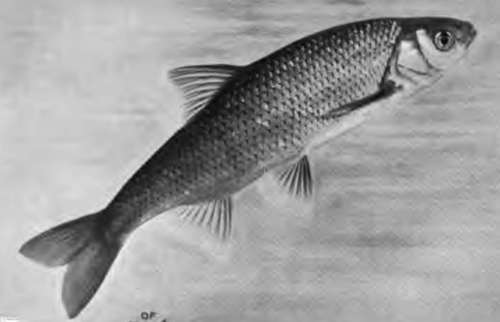 42.- Dace.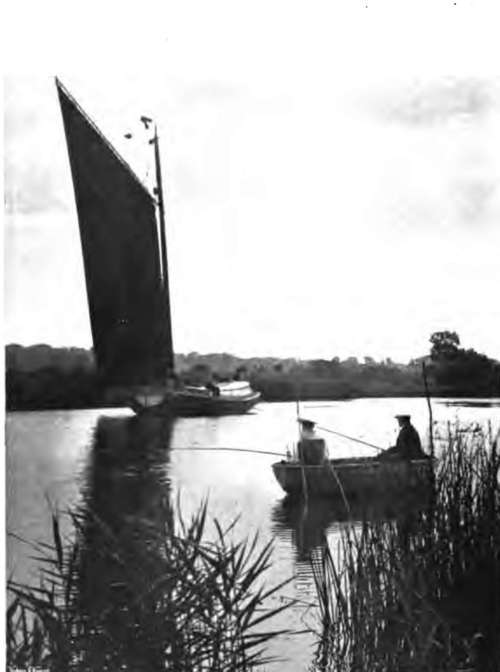 43.- A Norfolk River.