The directions given for angling for Carp, are, in a great measure, applicable to that for Tench. Their habits and localities are nearly similar; for there are few ponds or rivers in which, if Carp be found, Tench are not to be found also.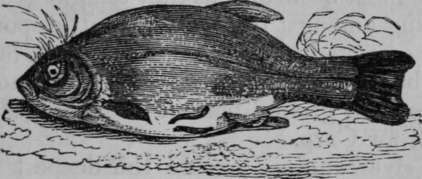 The Tench is a still-water fish, and delights in ponds more than in rivers. Like the Barbel he is a leather-mouthed fish; but as the latter chooses gravel or sand, so the former delights and thrives in mud. One Tench that is taken in a river, is worth six taken in a pond. There are, however, some members of the Walton-and-Cotton Club, whose epicu rean taste is particularly gratified with the flavour which mud imparts to the Tench; but this preference cannot he said to be in any way general.
In angling for Tench you must repair to the fishing-place by dawn of day. June, July, and August are the only months in which any sport can be expected with Tench. The tackle must be strong, as they delight greatly in being amongst the weeds. Little sport is to be expected after the sun has risen, but it may be renewed about six in the afternoon: and let the ground-bait be the same as directed for Carp.
In river angling choose the deepest and most silent water, which ought to be so still, and the surface so smooth, that not the least motion be imparted to the float. Be not too eager in striking when the fish bites ; for as he delights in sucking the bait, allow him time, and he will not quit it. The best and most enticing bait is the red-worm dipt in tar; or take the black clotted blood out of the heart of a sheep, some fine flour and honey, temper them finely together, make them of the consistency of an unguent, and anoint the red-worm with it. No other bait is to be compared to either of them.
The fishing-place should be baited with lob-worms and boiled malt. Fish very near the ground, and use a strong gut and a goose-quill float. In other particulars follow thp directions as laid down for Carp.