Fig. 49. One Wing Partly Extended Royce Tent.
The peculiar feature of this design is in the extra size and the form of the flaps, which make possible the triangular extension of the front for 2 1/2 feet and still closing completely; and the further extension of the flaps, in plane with the side roofs, leaving an open-ended true pyramid 7 1/2 x 13 feet, at an increase of only 2 1/100 yards of material and not over one-quarter pound weight, over that required for the simple half pyramid 7 1/2 feet square, barely closed.
This is worth while for most of us, for it permits of considerable extra room at practically no expense of weight or material, and allows of use in a variety of ways otherwise impossible: viz., the flaps extended completely, in plane with the side, leave an unroofed triangle within which a fire may be built, allowing the camper to sit under either flap, and, protected, manipulate his frying pan, etc.; or one may be so extended and the other closed, affording a wind and rain protection with good ventilation (Fig. 48), or one may be closed and the other extended 2 1/2 feet (as for triangular front), leaving an open doorway without disclosing to view the interior, on account of the extra wide flaps (Fig. 49).
Another peculiarity is that in the event of finding only a short tent-pole and no tree to tie to, the tent may be set up with any height pole, under 7 1/2 feet, and dress taut and trim, and, incidentally, cover a larger ground space, but, of course, at cost of less pitch to the roofs. The front being open clear to the peak, and all lines converging there, it is very easily cleared of insects by brush or smudge.
Of course, any pyramid tent, without perpendicular side walls, is free from the need of stakes, as only short pegs are necessary; when a quick shelter is needed, the peak-line over a branch or to a tree and pegs at the four corners will serve until it is convenient to place the intermediate pegs.
So many inquiries as to the details of this tent have been made, and so many requests for measurements and directions for making copies of it have occurred, that diagrams and measurements are here given.
Any tent-maker can reproduce it, for amateurs have, and it lends itself easily to those who enjoy making their own equipment.
The original is made of Lonsdale cambric and lightly waterproofed, and weighs only four pounds. It has had hard usage and has proved altogether satisfactory. Any thin material closely woven will serve, and that, too, without waterproofing, with roofs so steep.
Sheeting is practical, but would give a weight in excess of that quoted here.
Directions For Cutting And Sewing
Mateiial
Light, closely-woven cambric or other close material, 36 inches wide.
Dimensions
Seven feet 6 inches square on ground and 7 feet 9 inches high to peak.
Form
Half pyramid. Front "A," perpendicular; roof sloping three ways from pointed peak. Front flaps or wings are made to overlap considerably, and are longer than are necessary to reach the ground when closed perpendicularly.
Layout For Side Walls (Fig. 50)
Join two breadths 10' 4" long by edges, overlaid and double-stitched. Pin these out on floor smooth, and from point 1' 9" from end on one side to point same distance from other end of other side pin down a cord tight; close at either side of cord pin or baste a narrow tape, leaving tapes which cross the edges about two feet longer. Stitch these tapes down and divide goods in line between tapes. Sew to 1' 9" edge the selvage edge of a triangle 1' 9" by 1' 6" and sew tape to bias edge. These two triangles are the two side roofs.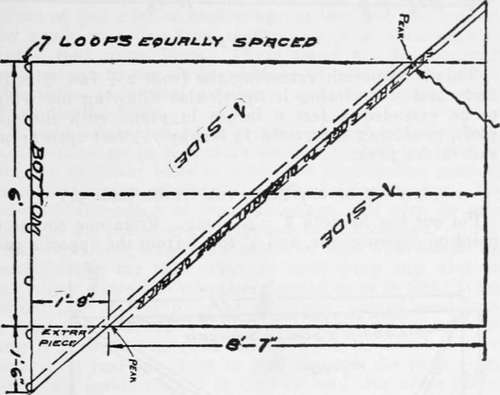 Fig. 50.
Layout Of Material For Back (Fig. 51)
Pin out smooth one breadth 13' long, and between points 2' 2 1/2" from each end on opposite side edges draw line or pin tight cord and sew tapes either side of line, leaving tapes which cross the edges two feet longer. Against these edges and to the tapes sew triangles z 2" by 9". Divide the goods between the tapes. These two triangles to be turned with selvage edges together and when joined form the back roof.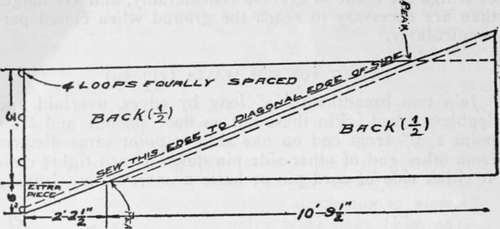 Fig. 51.
This is to permit extending the front 2 l/2 feet triangularly and still closing it tight; also allowing the wings to be extended 5 feet 6 inches in plane with the side roofs, producing a pyramid 13 feet by 7 1/2 feet open at one end to the peak.
Layout Of Material For Wings (Fig. 52)
Pin out one breadth 8' 7 1/2" long. From one corner to point on opposite side, and 3' 10 1/2" from the opposite end draw line and sew tape on side of line toward larger piece, leaving tape about 4' 9" longer than reaching to the selvage edge. Against this 3' 10 1/2" selvage edge sew triangle cut from other side of line, using right angled triangle 3' 10 1/2" by 2' 6", binding bias edge with overhanging tape. This makes only one flap or wing Duplicate.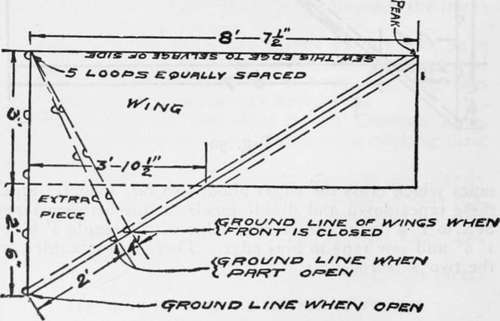 Fig. 52.
How To Set It Up
Join to each diagonal edge of the back one of the diagonal edges of each side-piece; and to the selvage edge of each side-piece a selvage edge of one of the wings.
Close the peak around a 3/4-inch metal ring. Leave front wings open clear to peak. Turn in ground edge a little all around and attach strong tape loops for pegs at corners and five between on each side and back and four on bottom of each wing; also on a line from lower attached corner of each wing to a point 2 feet up from bottom of free edge of each wing put four loops on outside and again on a line from corner to a point 4 inches still higher four more loops. These loops are for pegging down wings in the three positions of extension in plane with sides, in partial extension, and when closed with perpendicular front.