This operation has been suggested as a means of preventing the vicious circle or of arresting it should it unfortunately have occurred.
In posterior gastroenterostomy without a loop, or with a very short interval between the duodenojejunal flexure and the anastomosis, an entero-anastomosis is neither necessary nor desirable, as the vicious circle does not happen if the operation has been properly performed.
After the anterior operation with the necessarily long jejunal loop, stagnation of fluids may occur in it giving rise to regurgitant vomiting or to inflammation or ulceration of this part of the jejunum.
Some surgeons who regularly perform the anterior operation adopt entero-anastomosis as part of the technique, employing it as a preventive method.
I have only had to perform the operation on three occasions, and on each after anterior gastro-enterostomy, twice after my very early operations in which a long loop was employed, giving rise to regurgitant vomiting, which entero-anastomosis cured, and once, a year after operation by another surgeon, in which great pain and distress were caused by acute inflammation and ulceration of the whole of the lone; jejunal loop; in this case the condition was also relieved by the anastomosis. The operation is performed as follows : The lowest part of the ascending limb of the loop (a) is grasped by a rubber-covered clamp and approximated to a part (b) on the descending coil of jejunum beyond the gastro-jejunal opening, which is also clamped, and an opening of from 1 to 2 in. is made between one and the other in exactly the same way as already described for making the opening between the stomach and jejunum.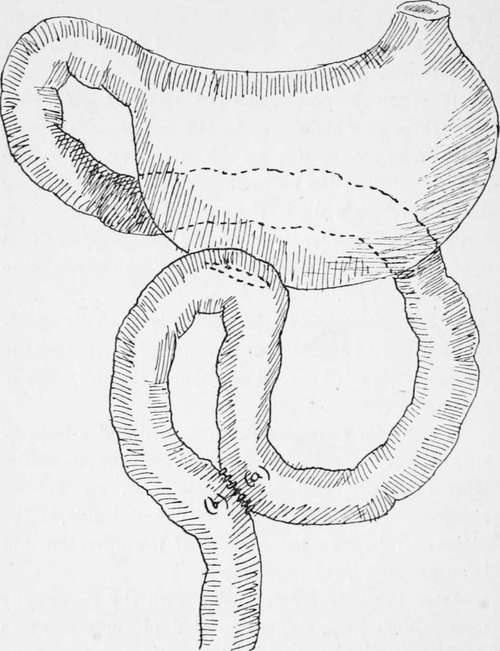 Fig. 17.