416. Insects
The aromatic flavor of celery seems to serve as a repellent to insects, for this vegetable has no serious enemy. The following insects are sometimes troublesome: Grasshoppers, celery leaf tyer, celery caterpillar, zebra caterpillar, tarnished plant bug, celery looper, carrot rust fly and the little negro bug.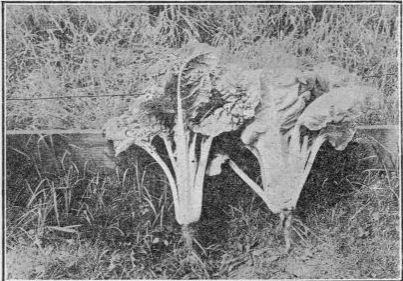 Fig. 81. two forms of swiss chard.
417. Diseases
Several diseases of celery are sometimes serious. The most important are the blights (Cercospora apii and Septoria petroselini, var. apii), leaf spot (Phyllosticta apii), and rust (Puccinia bullata). Bordeaux mixture is frequently used for the control of celery diseases. Some growers begin making applications in the seed bed and repeat at intervals until blanching begins. The early applications are doubtless most effective.