Quite as important as the material in these cottage gardens is the difficult question of a national style in gardening.
I was motoring through the Southern counties of England as the guest of one of America's best landscape gardeners, and we were exclaiming over the beauty of the cottage gardens when I propounded to my friend this question: "Is there anything peculiarly British in these gardens?"
"Not at all," he replied. "Of course the cottages have a national quality and they lend an English atmosphere to the gardens. But the gardens themselves have the same plants you see on the Continent, and there is nothing particularly English in the design. We do not see one type of cottage garden repeated many times. Every garden seems different. Indeed, I believe their beauty is individual rather than national".
This surprising conclusion may seem at first to be reinforced by Tennyson's passage which concludes with "each its own charm." Nevertheless, I believe there is a national element there — hard to define, but real. The nearest I can come to it is to say that the English cottager is fond of fruits, flowers, and a low hedge or wall. He trains grapes, plums, and peaches on the sunny walls of his cottage and ivy on the others. He is likely to have dwarf fruits. His garden is usually gay with flowers all summer and is pretty sure to have one floral specialty. His hedge or wall is not too high to see over, but it keeps out chickens, dogs, cats, children, and, to some extent, thieves.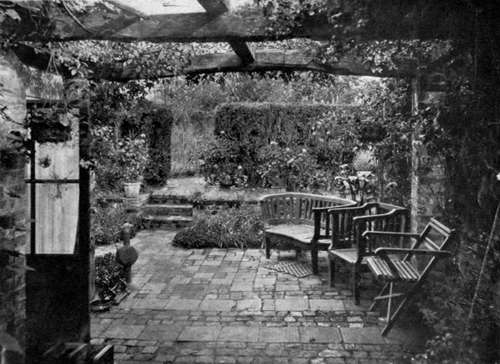 A PICTURESQUE ENGLISH COTTAGE GARDEN, CHARMING BUT IMPOSSIBLE FOR US TO COPY ECONOMICALLY. MILLIONAIRES IMITATE THIS SORT OF THING BUT NOT LABOURERS. See page 337.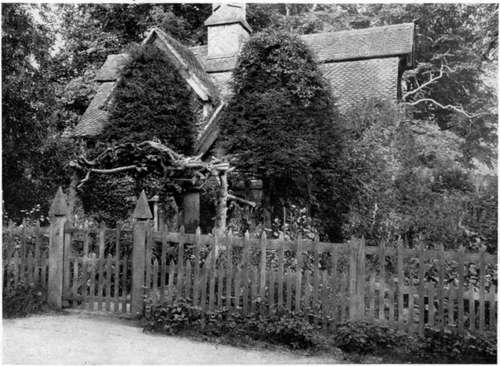 ENGLISH LABOURERS HAVE MORE TIME THAN OURS FOR GARDENING. SIMPLE TOPIARY WORK LIKE THIS IS BETTER THAN FIGURES OF MEN, BIRDS, ETC. NEAR PENSHURST. See page 337.
These may seem intangible characters, but by means of broad contrasts you will see that they are real. For instance, southern Italy has such a hot summer that flowers are only an incident in the Italian style of gardening, while in England they are the main thing. Again, the San Jose scale discourages the American cottager from growing fruit, but this insect has not yet reached England. Finally, the Englishman's passion for privacy is unique and it shows even in the cottager's low hedge.