Last of all come the finishing touches. You want some edging plants that arch over to the grass, so as to make an easy transition from lawn to tall shrubbery; therefore, choose arching bushes that grow one to three feet high like Deutzia Lemoinei, Japanese barberry, Thunberg's spirea, Stephanandra, and yellow-root (Xanthorrhiza). The first thing the beginner thinks of is the spice — such as purple-leaved barberry and variegated dogwood. It should be the last to enter into the garden scheme.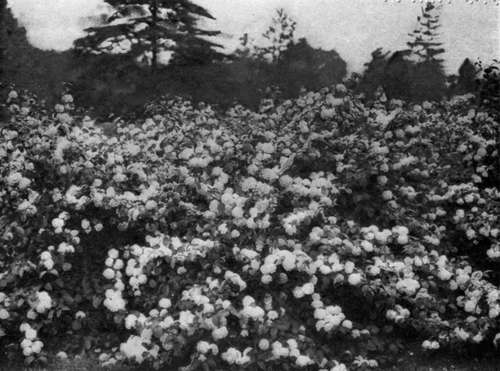 THE JAPANESE SNOWBALL (Viburnum tomentosum, var. plicatum). IT HAS VERY BEAUTIFUL FOLIAGE; MOST SHRUBS FAMOUS FOR THEIR FLOWERS HAVE NOT. See page 201.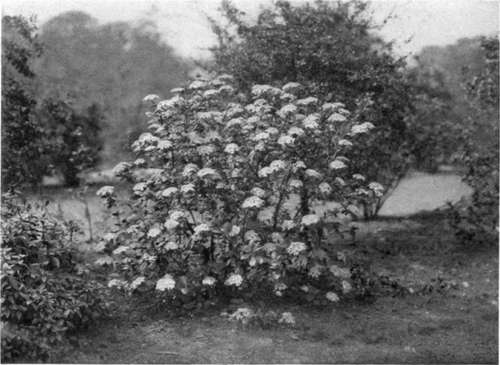 THE WAYFARING TREE (Viburnum Lantana). A LONESOME EUROPEAN EXAMPLE OF A TYPE OF BEAUTY IN WHICH AMERICA CAN BEAT ENGLAND. FOR WE HAVE MORE NATIVE SPECIES OF VIBURNUM AND CORNUS THAN ANY OTHER COUNTRY. THEY HAVE FLAT CLUSTERS OF WHITE FLOWERS, FOLLOWED BY ATTRACTIVE BERRIES, AND MANY OF THEM ARE RICH IN WINTER BEAUTY. See page 201.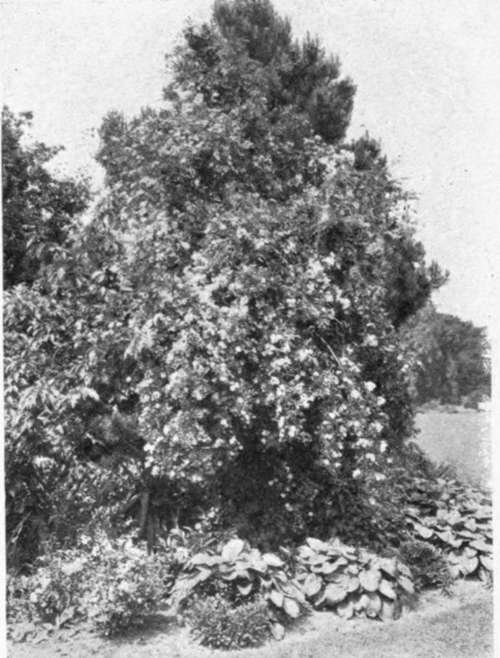 CLUSTER ROSES ALLOWED TO CLIMB UPON A PINE.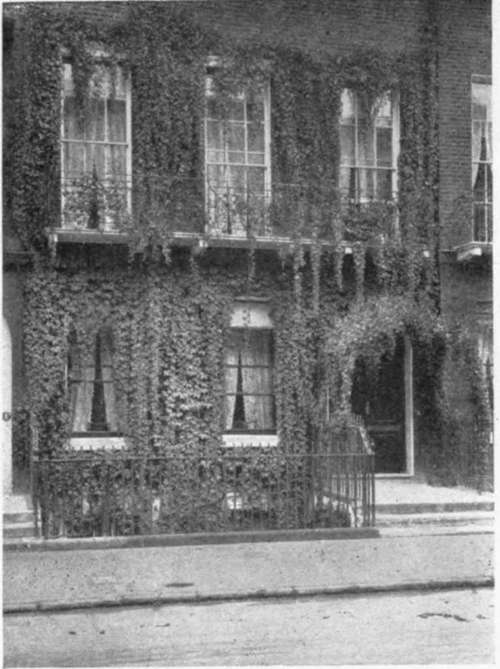 VIRGINIA CREEPER IN LONDON TRAINED SO AS TO SEND DOWN LONG STREAMERS -A LESSON FOR OUR LARGEST CITIES IN AMERICA. Seepage 212 and plate 30.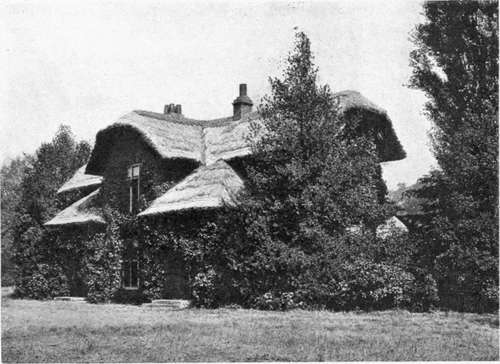 ENGLISH IVY DOES NOT SMOTHER A BRICK HOUSE BUT IT MUST NEVER BE GROWN ON WOOD. IT IS THE MOST VALUABLE EVERGREEN CLIMBER IN THE WORLD. QUEEN'S COTTAGE, KEW. See page 212.
When planting time comes interlace your big masses instead of keeping each kind in an absolutely solid mass. For instance, suppose you have twelve cranberry bushes that are to stand next to twelve common barberries. Place one or two cranberries a little inside the barberry mass and vice versa. Then your mass effects will be just as pure and strong as ever, but they will not seem too studied. That is the last touch that foresight can give. The crowning loveliness age alone can bring.*
• Apgar's "Ornamental Shrubs of the United States" tells how to recognize 621 wild and cultivated kinds. For fuller descriptions and for cultivation Bailey's "Cyclopedia of American Horticulture" are generally the most helpful. As to landscape value the following articles are valuable.
(G. M. and C. L. mean The Garden Magazine and Country Life in America. The numbers refer to volume and page.)
"Shrubs and Where to Put Them," C. L. 4:207 12:48 'How to BujV'Trees and Shrubs Economically," C. L. 12:48. "What Must be Planted in Spring, not Autumn," G. M. 7:140. "Shrubs for Fall Planting," G. M. 6:129 and 131. "Planting for Winter Comfort and Beauty," C. L. 9:155. "Plants Attractive both in Flower and Fruit," C. L. 15:490. "Ornamental Fruits," G. M. 7: 296, 344; 8:10, 70, 134, 184, 236, 292. "Flowers the Year Round," C. L. 11:534. "Shrubs That will Bloom This Year," C. L. 13:500. "Trees and Shrubs that Bloom Before the Leaves," G. M.5:138. "Flowering Shrubs from April to November," G. M. 3:30. Azaleas, C. L. 11:495, and G. M. 5:218. Barberries, G. M. 4:122. Cornus, C. L. 11:35. Hydrangeas, G. M. 2:66. Lilacs, G. M. 1:232. Spireas, G. M. 3:206; 7:284, 384. Viburnums, C. L. 11:38. "Prune Your Own Shrubs," G. M. 1:235. "How to Prune Shrubs," C. L. 3:164.