Any kind of shrubbery will make a transition between trees and grass, but most of the bushes that we love for their flowers, especially the tall ones, are deficient in foliage at the base. Therefore the most finished effect is produced by edging tall bushes with low ones, whose branches arch over and meet the grass. Such are Forsythia suspensa, which has- yellow flowers in April; Van Houtte's spirea, with white blossoms in May; Philadelphus Lem-oinei (plate 103) Stephanandra flexuosa, with white flowers in June; Regcl's privet, with white flowers in July; the shining sumach, with greenish clusters in August; the yellowroot, which begins to colour finely in September; the Indian currant, whose purple berries last until November; and, best of all, the Japanese barberry, which is attractive the year round, and especially in winter, by reason of its scarlet berries and the delicate tracery of its branches.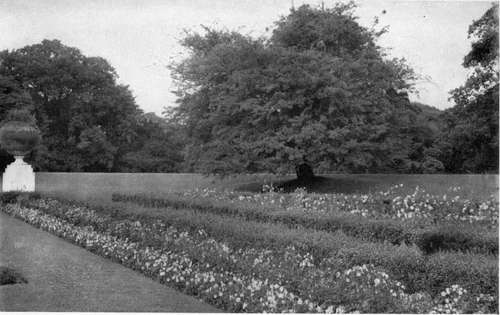 TUFTED PANSIES IN THE FRONT ROW, THEN TEA ROSES, THEN BOX. FRAGMENT OF A HUGE PARTERRE, IN WHICH 80,ODD VIOLAS ARE USED FOR EDGING ROSE BEDS. W. W. ASTOR's. See page 97.
It would be an excess of refinement to furnish a perfect transition everywhere — first tall bushes, then medium, and finally low ones. Where every thing is delicate, we miss the robust and virile. Tall trees seem taller when no bushes are allowed in front of them. On the other hand, if all the lines in a landscape are strong and rugged, we feel the need of a feminine touch. When you go outdoors to-day, apply these principles to the front yards that you see. Determine where you would sweep away the bushes and where you would put them in. I believe that ordinarily you will wish to put in ten shrubs for one that you pull out. The showy yards of our proud cities may have a certain barbaric splendour, but I think you will conclude that they usually lack refinement and repose. If you can go to the country, study the landscapes that seem most restful and soothing, notice the transitions that nature makes between wood and field — the rounded, billowy masses of sumach and the like. You will conclude that restfulness is due to gently flowing lines and that the harsh right angle between trees and grass is best hidden by shrubbery.