The showiest border flowers that I saw in England were peonies in June and larkspurs in July. It is right to plan for the showiest features first, but the worst possible way to do it is to get a catalogue, select the flowers you love best, and arrange the plants after they come. The best way is to draw a diagram of the border to scale, dividing it into five-foot sections, so that you can locate every plant on paper. Next you make a list of the months and ask yourself, "What shall be my main reliance in June, in July, and so on?" Thus you decide on your big masses first and the "fillers" last — as any artist does. The most pictorial borders are designed in this way in England, and it is thought best to have only one mass of the dominant flower for each period, instead of repeating that flower in the same border.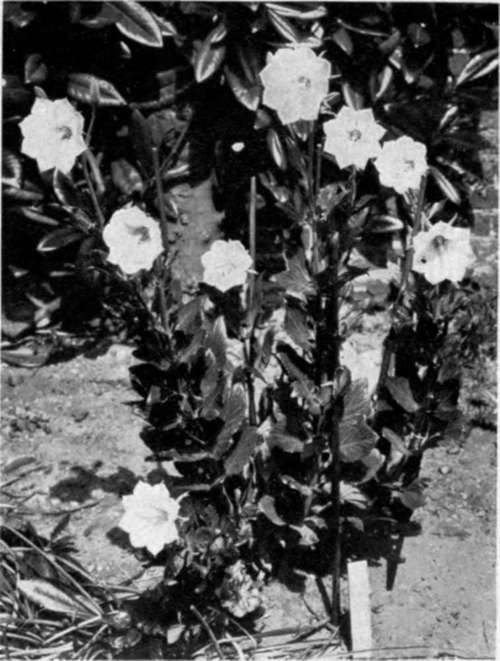 EXAMPLE OF RARE PERENNIALS THAT APPEAL TO COLLECTORS. OSTROWSKIA MAG-NIFICA, THE LARGEST OF ALL BELLFLOWERS, AGAINST A BACKGROUND OF MAGNOLIA GRANDIFLORA . Sec page 228.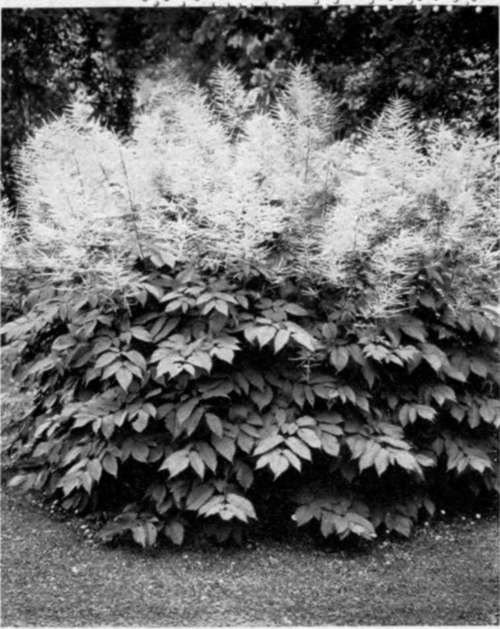 EXAMPLES OF THE BOLD PICTURES THAT CAN BE MADE ON LAWNS BY USING ROBUST PERENNIALS WITH ATTRACTIVE FOLIAGE, E. G., THIS ELM-LEAVED SPIREA. See page 233.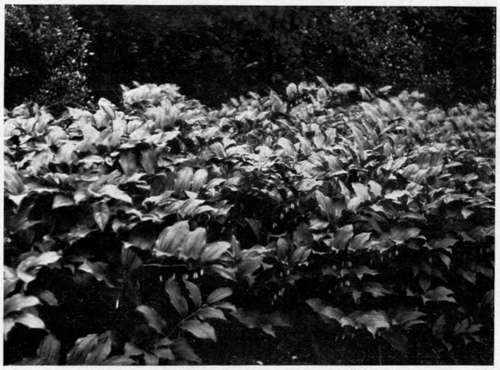 EXAMPLE OF PERENNIALS FOR PICTORIAL EFFECTS. SOLOMON S SEAL IS A GREAT FAVOURITE IN ENGLAND, AND IS THOUGHT TO SUGGEST THE FLIGHT OF BIRDS. See page 228.
Peonies are certainly the showiest border flowers in early June (or after the German iris) and double peonies are more massive than single ones. The best possible associates for peonies are lilies—not the madonna, but really permanent ones that bloom later — elegans, Henryi, and speciosum. By using these bulbs as fillers you hide the deficiencies of the peonies and get two crops of flowers in the same bed.
The peony and lily idea is now familiar in America, but I have never seen peonies used in America for wild gardening. At first the idea seems absurd, because double flowers cannot possibly look wild when viewed near by. But if you put peonies at the edge of a wood at so great a distance that you cannot distinguish form and can only enjoy their colour, they make a wonderful, effect, especially in the early morning, at twilight, or when they light some dark corner. I should like to see this notion tried on some great estate in America. I believe the painters would like it. The horticultural justification for this idea is that peonies are about as long lived as shrubs.
After the peonies, the next showy flower is the perennial larkspur. It is certainly the queen of the border in July. The most artistic way to use larkspurs is to place them where they will be seen in combination with strong vertical lines in architecture, e. g.y the columns of a pergola or summer house. Against rounded bushes they may not look so well. Most people mix all the different shades of blue and purple together. Mr. J. William Barr's idea is to have about six pale blue larkspurs in one group, six dark blue in another and six purple ones in a third. And he would choose varieties that come one after another instead of all together. Personally I cannot "go" the double larkspur, especially those with blue petals and purple centres.
The English have made a great exhibition flower of the larkspur, and lords and] ladies flock to see three-foot spikes of the variety called Monument, while individual flowers of the Duke of Connaught are said to attain two and a half inches in diameter (I measured one that was two inches across). These large flowered varieties, however, are not always the most effective in the garden. They need a rather open spike in order to show their individual flower to advantage. In the garden, the long, dense spikes of small flowers suit me best, because the soul of the larkspur seems to be aspiration, and this idea is most clearly suggested when the flowers approximate the spire in form and the sky in colour. The fashionable idea, however, is to make the larkspur a collector's flower. People often import fifty varieties at a time from England, but such collections often disappear in a few years because of the black spot — a disease unknown in England. The best way to control this disease it to propagate these improved varieties by cuttings.