From the nature of things the cottager can grow few trees or none. He hasn't enough space for tall trees, and they would rob his lawn and trees. He can hardly afford evergreens or magnolias. When all cottages are built of permanent material cottagers will get sick of the quick-growing trees like box elder and poplars, because they are short-lived. Flowering dogwood may prove to be his best tree.
The English cottager has few shrubs or none. Bushes take a good deal of room and do not bloom long as a rule. But the lawn-and-shrub garden may become the commonest in America, because it is easier to care for than a flower garden. The American cottager will go in for long-blooming shrubs, like hydrangeas. He cannot afford azaleas, Japanese maples, white fringe, dwarf horse chestnut. Rarely will he have good roses or lilacs. Let him have Van Houtte's spirea, golden bells, mock orange, Morrow's honeysuckle, and fragrant sumach, hardy hydrangea, cranberry bush, multiflora and rugosa rose, and plenty of Japanese barberry. Then his yard will be attractive the year round.
Our cottages should be nearly covered with climbers. Every one will want roses and Jackman's clematis, but successes with these will be few. The fittest to survive are Virginia creeper, Japan ivy, Hall's honeysuckle, trumpet creeper, wistaria, bittersweet, and wild clematis. The ideal thing would be to have every north and west wall covered with English ivy or climbing euonymus.
Prophecy is rash, but necessary, for it is only another way of stating our ideals. The American cottager eventually will desire a hedge. A good time will come when board fences will be unknown. The cottager will tire of privet, because it is open at the base and costs too much to trim, lets the dogs into his flower beds. He will have barberry around his front yard because it is practically "pig tight, bull strong, and horse high," or at least horse broad. He will love it for its autumn colours and its red berries that last all winter. And he will never have to trim it.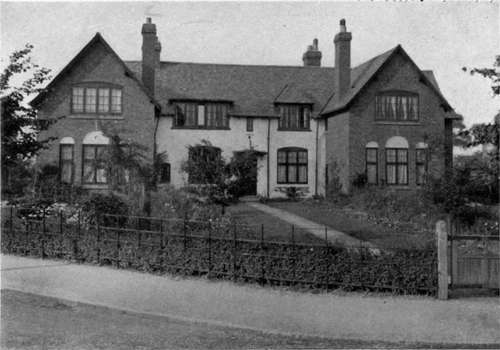 THE ENGLISH COTTAGER GENERALLY HAS MORE FLOWERS THAN LAWN BUT THIS ONE HAS MORE LAWN THAN FLOWERS. THIS PLAN IS BEST FOR A LARGE AND GROWING FAMILY. THREE FAMILIES LIVE ON THIS CORNER LOT AT BOURNVILLE. See page 337.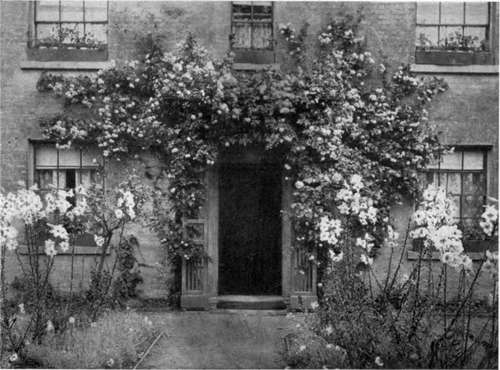 EVERY COTTAGE GARDEN IN ENGLAND IS LIKELY TO HAVE ITS SPECIALTY. OUR COTTAGERS CANNOT HAVE LARGE DOUBLE ROSES LIKE TIl/s ALL SUMMER. See page 337.
Will American cottage gardens be less beautiful than the English? Not after a century or two, and that is a short time in the history of humanity. A good time is coming when the cottages will all be built of fire-proof material in an American style. They will be surrounded by neat and beautiful gardens. No two will be alike. One will be glorious when the dog wood blooms, another when the Virginia creeper colours; this will be fragrant with honey-suckle and trumpet creeper, that will be gay with bedding plants; some will have shrubbery borders, some will have old-fashioned flowers. All the homes will be healthful and happy. They will be as neat and attractive as the English, but they will be different. They will be American. And then our country will have found herself.