England's greenhouse problems were three: to raise th best fruit, to harmonize the greenhouse with existing architecture, and to perfect the small, cheap greenhouse so that everybody could have one. Those problems she has solved.
Our great job, it seems to me, is to develop the idea of lith, ability in greenhouses. The American people are "long" on ingenuity and "short" on repose. We work harder and longer than Europeans and, therefore, we need something in addition to active sports. We need to relax. There is no relaxation in the ordinary greenhouse. One merely wanders through it with a bunch of friends to see a lot of unrelated objects that are on exhibition. But Mrs. Stewart's living room is a place to loaf and invite the soul. This, then, seems to me the first great contribution toward an American style of greenhouse. (It is fully described in Country Life in America for December, 1907.)
The second important adaptation of the greenhouse to American life has been made by Mr. Warberg, of White Plains, who has combined the idea of a greenhouse and swimming pool. For Americans are certainly fond of bathing, and swimming pools for summer use are common among the rich. Why not, then, cover the pool with glass and use it the year round? And why not cover the walls of the greenhouse with beautiful tropical vines? Thus the different members of a family may enjoy a swim before breakfast, not only in complete privacy, but amid a scene of beauty.
The third great American idea was contributed by the late Samuel B. Parsons, in a book called "About Gardens." It is to cover all the roofs in a great city with gardens of glass. These, he thinks would furnish ideal playgrounds for children in the winter. Such greenhouses need not be an added care to the family, for the florists would supply caretakers. In the summer, when the house is shut up, the plants could be sent to the florists. If the paterfamilias has to pass a night at home he could open the ventilators and sleep in the greenhouse. Mr. E. H. Harriman had on the roof of his New York house an outdoor sleeping room which was a sort of greenhouse.
The fourth idea we are bound to develop is to build a house around a garden and cover the garden with glass, as Mr. J. H. Wade has done at Thomasville, Ga. The Spaniards have perfected the patio garden. It remains for us to adapt it to a country that has zero weather in winter.
I could give other examples of originality in greenhouse construction, e. g., Mrs. Thompson's aviary which has a tree in it, but unique things, and things that are only for specialists, are not helpful, as a rule. The important thing is that which suits thousands or even millions of people. Originality in England has often exercised itself in making grottos in greenhouses, with all sorts of coloured lights and surprises. There is nothing in that line of effort worth while. The one problem, in which American originality should do its best, is the most democratic of all — the cheapening of the greenhouse so that everybody can have one. Already we have a portable greenhouse for two hundred and fifty dollars which will not fall down when you breathe hard, or rot to pieces in ten years; and I hope for even better things.
Hitherto greenhouses have been such ugly things that owners of country places would not have them near the house. In England, greenhouses are made to harmonize with any style of architecture, but at great sacrifice of the sun's rays. The American houses, I believe, are the lightest on earth. A few years ago the panes of glass were only eight inches wide; now they are twenty-four. That awkward elbow has been abolished and snow can no longer darken a house. Inside one of the new houses there is nothing to break the sweep of vision or shade the plants. We have evolved a type of greenhouse far brighter and cheerier than any I saw in England. Its expression is efficiency — a solid feeling of permanence, combined with a smiling and inviting exterior. The character of it is unmistakably American. It remains only to bring the workshop and vestibule into harmony with domestic architecture.
There is one English idea, however, that we can import bodily with profit, and that is the "fun of collecting." The English are a nation of collectors and hobby riders, and I feel it in my bones that we shall become so. The passion for completeness is in our blood. Orchids are the great favourites with English collectors, but many people like to have a general collection. There is no accounting for taste. Some people run after pitcher plants, some want a hundred kinds of chrysanthemums and some yearn after every variety of begonia. The greenhouse enables every one who has the collecting spirit to become a world-authority, or at least a local oracle on his specialty. And the crowning joy of the collector is the production of new and improved varieties. No matter how hardy a plant you may work with you will want a greenhouse to propagate your precious seedlings. It is not impossible that the first red daffodil will open in a #250 greenhouse and even a seven by nine feet structure is large enough for a reasonably complete collection of amaryllis — those gorgeous plants shown on plate 52.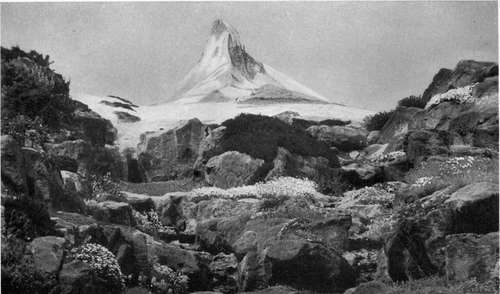 AN ASTONISHING COLLECTION OF ALPINE FLOWERS, AND A REPRODUCTION OF THE MATTERHORN ON A SCALE OF SEVERAL ACRES. SIR FRANK CRISP'S GARDEN, FRIAR PARK, HENLEY, FOR DESCRIPTION OF THIS GARDEN, SEE PAGE 65. For pictures see plates 27, 2Q, 30. 79, 81, 82.