This brings me to a very important question: "Are hedges best for a front yard, or fences? Or should the front yard be left open?"
The Bournville people are absolutely sure that the hawthorn hedge is best for them. "We want flowers in our front yards," they say, "and you cannot have flowers if dogs, cats, and children are allowed to enter." Moreover the hawthorn hedges, all trimmed to a uniform height of about three feet, make the whole street look neat and attractive by contributing a uniform greenery. Also they act as a background to show off the flowers. It takes six years for a hawthorn hedge to attain a height of five feet, and it must be protected by "hurdles," or portable iron fences, for about three years.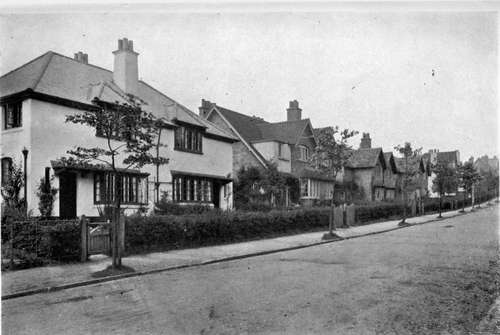 EVERY STREET HAS ONLY ONE KIND OF TREE AND EVERY YARD HAS A HAWTHORN HEDGE. THUS THE STREET EFFECT IS ONE OF SPLEN*. DID UNITY WITHOUT MONOTONY IN ARCHITECTURE OR GARDENING. FOR WHITE HOUSES OCCASIONALLY RELIEVE THE RED AND NO TWO1 GARDENS HAVE THE SAME DESIGN. AN EARLY PHOTOGRAPH BEFORE THE TREES HAD ATTAINED SIZE AND BEAUTY. See page 130.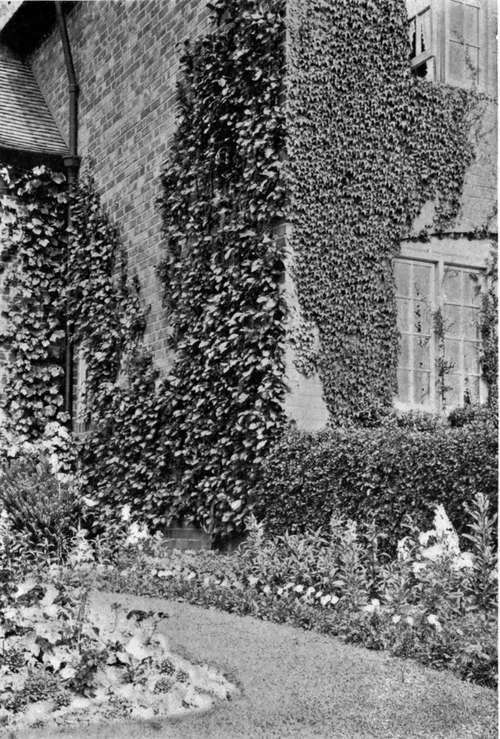 VINES GIVE MORE AND BETTER INDIVIDUALITY TO EACH HOME THAN ARCHITECTURAL ORNAMENTATION. BOURNVILLE SAVES THOUSANDS OF DOLLARS EVERY YEAR IN THIS WAY. See page 140.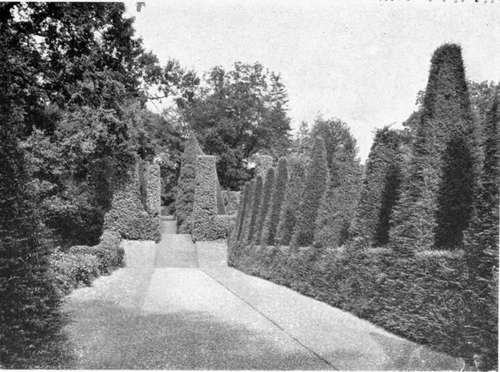 This picture might have been made in america, for the hedge effect is practically the same as that produced by hemlock, is it not? yet this is the famous yew. See Page 148.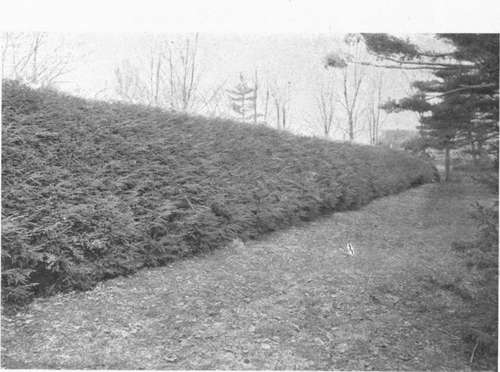 A section of hemlock hedge in america viewed closely to show that it IS our equivalent for a hedge of english yew. See Page 148.
In America this idea may win in the back yard, but not in the front. England is an aristocratic country and everybody has a passion for privacy. America is democratic and our present notion is to have no fences in front yards, and to leave the front lawns open so that the whole street will have a park-like effect. There are no shrubs in the front yards of Bournville; we use them a great deal.
Where we got this notion of parking front yards I do not know, but perhaps it was a reflex of the laws concerning cattle. In pioneer countries people are compelled to fence cattle out; later the owners have to fence their cattle in. When cattle ceased to roam the streets a great cry went forth, "Down with the fences," and it was well that they did, for they were an eye-sore, being usually of temporary materials and, full of meaningless ornamentation, no two alike. Then followed the lawn and shrubbery system for front yards, and whether it is more than a passing phase I do not know.
But of this I am confident. The feeling for privacy will grow slowly, but steadily, and our back yards will surely be made private. I believe we are not likely to have six-foot walls or hedges around the front yard. If we ever get a national hedge plant for front yards I believe it will be Japanese barberry, which grows about four feet high. You can look over it and see your neighbour's garden, but his dogs, cats, and children cannot get into your garden.
On the whole I believe the best plan for small city lots, as a rule, is to have the open lawn flanked by shrubbery in the front yard, with the back yard wholly screened from the street and separated from the neighbours by a hedge, or wall six feet high.