The English often allow ivy to grow up Scotch pine and Norway spruce, but this seems altogether too strong a contrast in form and texture. And there is an even greater danger — the danger of destroying the symmetry of an evergreen tree. How foolish it would be to grow any climber on Colorado spruce or con color fir! For a branch lost by a conifer can never be replaced, and therefore the whole game is to keep evergreens symmetrical as long a time as possible.
On the other hand some of the evergreens we plant the most are the first to lose their symmetry, e. g., Scotch and Austrian pine, Norway spruce, silver fir, and arborvitae. English conifers, as a rule, look happy; ours do not. They soon get thin and ragged. Why should we not conceal the defects of these thin trees that have lost their lower branches?
What does nature do? She sometimes throws a veil of wild clematis over pitch pine, and on Long Island, Mr. Hicks tells me, she sends scarlet honeysuckle up the red cedars. In Japan, she trains wistarias on her giant pines.
In English gardens I saw a very good effect from wistaria on yew, which we could reproduce on hemlock. At Gravetye I saw Mr. Robinson's famous combination — clematis on yew. And there, I believe, is the principle that should guide us. If we grow climbers upon conifers, let us choose what Mr. Robinson calls the "lace workers," not the kinds with big, showy flowers. Jackman's clematis would doubtless be a failure in every way. What we want is fleecy clouds of small white flowers, such as we can get from Clematis paniculata and Firginiana. There are also two climbing hydrangeas, one of which grows at Dosoris on a tree trunk.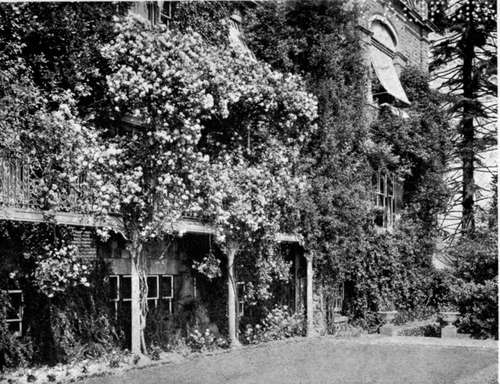 ONLY IN THE SOUTH AND ON THE PACIFIC COAST CAN WE HAVE LARGE, DOUBLE ROSES BLOOMING ALL SUMMER AND CLIMBING TO SUCH A HEIGHT AS THIS. RIVERHILL, SEVENOAKS, KENT. See page 222.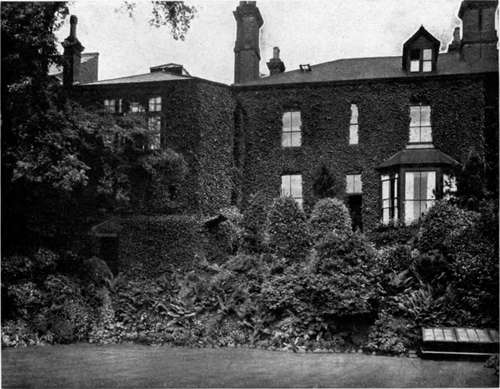 A HOUSE IN MANCHESTER (THE ENGLISH PITTSBURGH) TRANSFORMED BY JAPAN IVY. A BEAUTIFUL GARDEN IN THE HEART OF A GREAT CITY. HOME OF MR. GEORGE SYDENHAM. See pages, 212, 223.
A combination suggested by Miss Duncan sounds most artistic, viz., wistaria and trumpet creeper on the same tree. They supplement each other in time of bloom and give a complete change of colour, but both have similar, pinnate leaves.
However, I must not be dogmatic about large flowers, because I have never seen Miss Whitney's trumpet creeper bloom on her white pine at Westbury. I did see this combination in winter, however, and am bound to say it was the most perfect marriage between evergreen tree and deciduous climber that I have ever seen. It looks as if the golden wedding might be celebrated before long, as both parties are hale and hearty. The pine is about seventy-five feet high and the vine has grown to the top.
We often make the mistake of planting a climber near the trunk of the tree. It is better, both from the cultural and pictorial points of view, to plant them ten or twelve feet away and train them on inclined poles until they reach the lower limbs. Then you get the effect of lianas in the tropical forest or of wild grape in our own woods.