Those who have never stood in the position of a challenger can scarcely realize the sense of responsibility felt by one who has openly thrown down the gauntlet to a man who is popular with the public.
The Mirror had placed its reliance on the work of a British mechanic, and if Houdini succeeded in escaping in the first few minutes it was felt that the proceedings would develop into a mere farce.
But time went by; 5, 10, 15, 20 minutes sped. Still the bana played on. Then, at 22 minutes, Mr. Houdini put his head out of the " ghost house," and this was the signal for a great outburst of cheering.
"He is free! he is free! " shouted several; and universal disappointment was felt when it was ascertained that he had only put his head outside the cabinet in order to get a good look at the lock in strong electric light.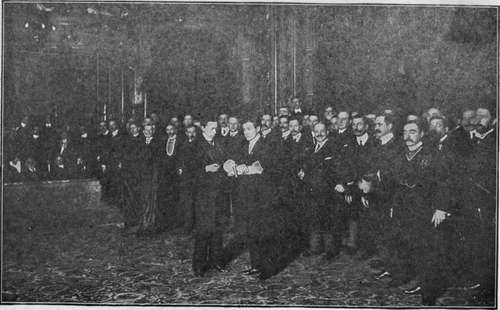 From a Photo of the Famous Scene in the London, England, Hippodrome, when Houdini was Handcuffed by the London Illustrated Mirror Representative.
The band broke into a dreamy waltz as Houdini once more disappeared within the canopy. The disappointed spectators looked at their watches, murmured "What a shame!" gave Houdini an encouraging clap, and the journalist resumed his stride.
At 35 minutes Mr. Houdini again emerged. His collar was broken, water trickled in great channels down his face, and he looked generally warm and uncomfortable.
" My knees hurt," he explained to the audience. " I am not done yet."
The " house " went frantic with delight at their favorite's resolve, and this suggested an idea to the Mirror representative.
He spoke rapidly to Mr. Parker, the Hippodrome manager, who was at the side of the stalls. That gentleman looked thoughtful for a moment, then nodded his head and whispered something to an attendant.