Theophilus also mentions several compound colours. "Exedra," or "exudra," a mixture of red and a little black, to relieve and finish the flesh. " Pose," a mixture of green and red with "membrina" (akind of purple); " Veneda," a grey made of black and white lead or lime, and " Prasinus," which he says is green colour with black. "Pallidus," is a colour not quite white, but somewhat inclined to shadow. He commences his chapter on the tempering of colours (in the appendix in Hendrie's edition) thus: "The 'blue of the Saracens' is good. Also another, 'Roman blue,' and another called 'indigo.' Greek green, green earth, vermilion, minium, white of Apulia, bone white, and white lead, brisil, orpiment, ochre, saffron, sinoper, the preparation of ' brunus,' gypsum, folium." This list includes several colours not mentioned elsewhere.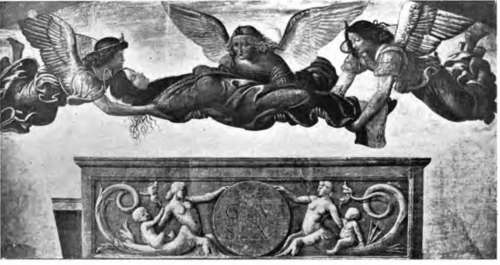 THE BURIAL OF S. CATHERINE OF ALEXANDRIA.
Fresco by Luini, now in the Gallery of the Brera, Milan.