The hand camera developed for the United States Air Service and manufactured by the Eastman Kodak Co. is made in three models, using the bag magazine, a two-compartment magazine, and roll film, respectively. The shutter is of the fixed (one or two) aperture variable tension type, built into the camera. A distinctive feature is the double lens flap, in front of the lens actuated by the thumb pressure shutter release (Fig. 39). In the bag magazine camera the shutter is set, as a separate operation, by a wing handle, and a similar handle controls the tension adjustment. In the two-compartment type (Fig. 33) the shutter wind-up is geared to the plate changing lever, so that but one operation is necessary to prepare the camera for exposure. In the film type (Fig. 34) a single lever motion sets the shutter and winds up the film ready for the next exposure. After the last exposure of all the film is wound backward on its own (feeding) roller before removing from the camera. The film is held flat by a closely fitting metal plate behind, and by guides at the edges in front, an arrangement which with small sizes works fairly well although the exquisite sharpness of focus attainable with plates is not to be expected. The saving in weight made possible by the use of film in place of plates in metal sheaths is about three pounds per dozen exposures.
In all these cameras the sight—a tube with front and back cross wires—is placed at the bottom. This position has been found the most convenient for airplane work, as it necessitates the observer raising himself but little above the cockpit, a matter of prime importance when the tremendous drive of the wind is taken into account.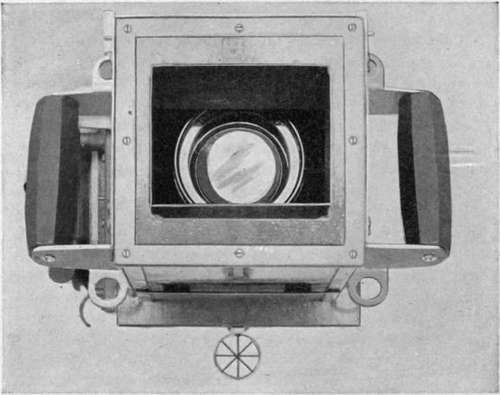 Fig. 39. - Front view of U. S. aerial hand camera, showing lens flaps partly open, and details of tube sight.