The exercises attending the hundredth anniversary of the laying of the original corner-stone of the Capitol by George Washington, September 18, 1793, were held on the east front of the Capitol. Congress adjourned to attend the ceremony in a body. President Cleveland was present, and delivered a few appropriate and well-chosen words of introduction. He was followed by Vice-President Stevenson, who represented the Senate; by Speaker Crisp, who spoke on behalf of the House of Representatives; and by Mr. Justice Brown, who voiced the sentiments of the Supreme Court of the United States in a graceful speech containing some research. One of the Commissioners responded for the District of Columbia. William Wirt Henry of Virginia, a grandson of Patrick Henry, as the orator of the day, delivered the principal address. The programme was interspersed with music by the Marine Band, under the leadership of Professor Fanciulli, and by a grand centennial chorus of 1,500 voices, trained for the occasion.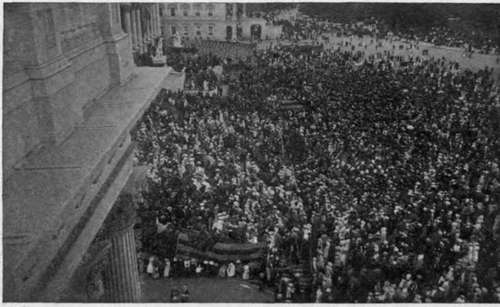 THE CENTENNIAL CELEBRATION.
In the evening, the campus formed a brilliantly lighted amphitheater for the continuation of the exercises. The programme was largely of a musical character, embracing choral selections. Patriotic sentiment was awakened by Charles B. Hanford, the actor, who recited with feeling and art " The Star Spangled Banner." A tablet was placed by permission of Congress above the original corner-stone in commemoration of the centennial exercises. The cost of this tablet was defrayed by the committee.
On Saturday afternoon, July n, 1896, at five o'clock, the notes of a more remarkable chorus, numbering nearly four thousand voices, arose from the campus heavenward. It was the occasion of the greatest assembling of the Christian Endeav-orers during their visit to Washington. The central steps of the Capitol were devoted to the chorus, the ladies forming a sort of parterre in the center, the men ranged on either side. Before the steps was erected a flag-draped stand for the officers and leaders of the United Society, and back of this, but still within the rope-enclosure, the Marine Band on a raised platform contributed classic strains to the fervent ceremony. The throng of people was among the largest and most peaceful yet gathered before Congress House, and the procession at the close of the exercises was truly unique and inspiring. Down Capitol Hill and along Pennsylvania Avenue marched the thousands of enthusiastic En-deavorersómen, women and childrenóled by the Marine Band, the officers of the United Society, members of the " Committee of '96 " and the wonderful chorus.