This breed of Terrier has certain features distinct from that of all others, and originated, so far as we are able to glean, in the county of Northumberland, over a century since.
William and James Allan appear to have had a great deal to do with laying foundation-stone of this variety of Terrier.
It is said that James Allan lived in a gipsy camp about the year 1730, in the Rothbury Forest, and that his father, William, was famed for other hunting Terriers, which were then known under the title of Rodbury, or Rothbury Terriers.
During 1825 a stone mason, to name Tom Ainsley, had a dog that he called Young Piper, and through his residence in the locality of Bedlington (near Newcastle), the present breed derived its name.
The dam of Piper was black, with brindled legs, and light-coloured hair on the top, and she weighed about 14 lbs. and the sire was about the same weight, liver - coloured, with a somewhat hard texture of hair.
Bedlingtons are very game dogs, and will generally tackle anything their own weight.
They make good watch-dogs, and are capital " ratters," etc. Many cross-bred Terriers—and game ones too, have a considerable proportion of Bed-lington blood in them. Their chief points are as follows:—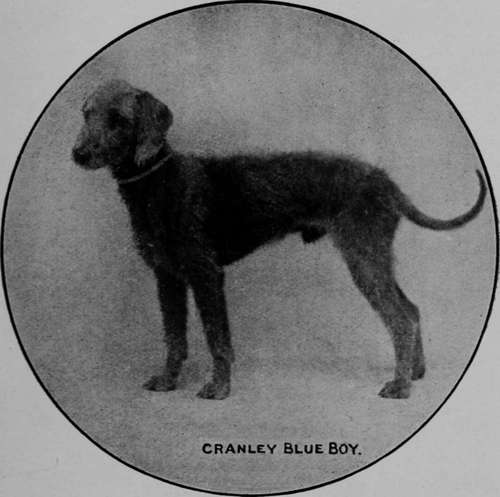 Bedlington Terrier Dog (Mr H. Warnes).
Height
About 15 inches.
Weight
22 to 24 lbs.
Colour
Sandy, liver, dark blue, blue and tan, liver and tan.
Nose
If dark blue, or blue and tan, the nose should be black, but when liver-coloured, sandy, or liver and tan, then the nose ought to correspond, being either liver, or flesh-coloured.
Coat
Hard in texture, standing well off the body. A great deal of trimming is necessary to get Bedlingtons fit for the show bench.
Skull
Narrow, but should have a good dome on it, with a silky " top-knot" or " crown." From the eyes to nose, face ought to be long, and rather narrow.
The jaw to be long and the lips tight-fitting, free from flew. Strong, level teeth.
Small, deeply-sunk, keen-looking eyes, moderate-sized ears, carried flat on cheeks, and covered with soft hair, are typical of the Bedlington.
The neck should be long, well set up, and strongly muscled.
Body
This is moderately long, deep at the chest, and slender at the waist.
Tail
Long, tapering, thick at " set-on," feathered on under surface, and the carriage of it reminds one, somewhat of the Setter.
Limbs And Quarters
To be of medium length, straight and strong.
Club
The Bedlington Terrier.