Through the kindness of Cary Barnard, Esq., of Hailsham, I am able to give an illustration of this variety of dog so scarce in this country, the specimen depicted being typical of the breed.
These Hounds are said to be somewhat difficult to obtain, the owners are unwilling to part with them, being kept by a class who consider it a distinction to own them.
In the Natural History Museum at South Kensington there is a stuffed specimen, practically identical with the one herein portrayed.
Built on racing lines, in almost every particular, these dogs look exceedingly quaint, chiefly because of the feather, or long hairs, upon the ears, throat, backs of the limbs, feet, and tail.
Skull is rather broad, and flat on the top, but there is no " stop".
Eyes
Small, placed close together and well to the front, giving the animal the appearance of having a very penetrating vision.
Ears
Remind one of a short-eared Spaniel, and from over their surface long hairs proceed.
Neck
Long, rather thick, and the body and loins long, yet well coupled.
When viewed from the front, these Hounds look very tall, due to the great length of the arms and forearms. These regions, and those of the shoulders, are strongly built.
When at rest, tail is carried rather like that of the Irish Water Spaniel, and during excitement, elevated, but not carried over the back. It has an abundance of long hair.
First and second thighs long, and feathery to a short distance above the hocks. Hind toes are well clothed with hair. The hocks are strong, low-placed, and pasterns long.
Colour
Fawn, with the feathered portions running to a silvery white.
Weight
About 50 lbs.
Height At Shoulder
24 inches, or thereabout.
Uses
During Captain Barnard's residence in Afghanistan, the Hound depicted in our illustration was used for running jackal, and said to be very useful for this purpose.
He is an exceptionally fine jumper, having made a clean leap over a fence 9 feet 4 inches in height —a most creditable performance. This Hound has won numerous prizes, including a 2nd, at Crystal Palace.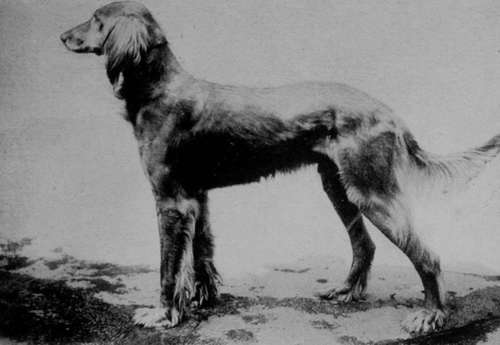 Afghan Greyhound (Property of Mr Cary Barnard).