At the Kennel Club Show there are classes for this variety of Retriever, and, in our opinion, the Labrador will, in course of time, become very popular amongst sportsmen, as they are excellent retrievers, when properly broken. They are wavy-coated dogs, either black, fawn, or yellow in colour, and, what is remarkable, these coloured dogs often appear in a litter belonging to a black sire and dam.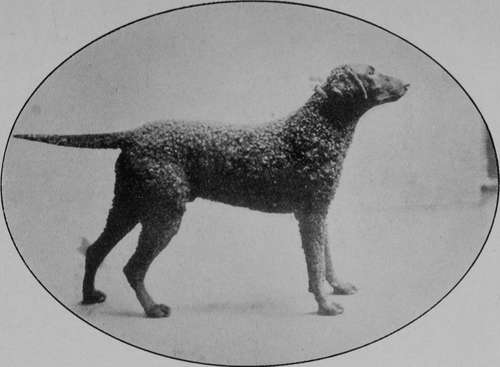 Curly-coated Retriever Dog.
White specimens have been produced, and it seems likely enough that a race of white Retrievers will, in course of time, become established, though, from a sportsman's view, they will not be as serviceable as their black or darker-coloured brethren.
The author remembers several fawn-coloured Labradors on an estate in Scotland, and the gamekeeper spoke most highly of the breed for work, though, constitutionally, somewhat delicate.