The following gives a brief account of the signification of the different bones composing the human skeleton, and to familiarise the mind of the Student in Anatomy with the idea that the whole body is formed of a succession of vertebral segments. The book is unsuited to those who have not previously rendered themselves well versed in elementary Osteology by the careful examination of the different bones, and by the attentive perusal of some of those excellent systems of Anatomy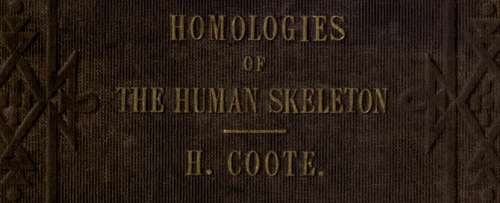 By Holmes Coote, Fellow Of The Royal College Of Surgeons Of England, And Demonstrator Of Anatomy At St. Bartholomew's Hospital.
Printed by Iliffe "Wilson, Middle Yard, Great Queen Street.